Test winners and best in class
Here's how our devices performed in the test
Test magazines, customer awards and the big winners: There are a whole host of tests and awards. On this page we present you the test results of some of our products. For example, we are particularly proud that the winner of the Stiftung Warentest in the field of cordless lawn mowers comes from Einhell in 2021 and we'll explain just how our cordless air compressor received top marks from "Selbst ist der Mann". Find out more now!
The best tested battery
According to TÜV Rheinland, it's from Einhell
On behalf of the magazine "Selbst ist der Mann", TÜV Rheinland has put six standard battery packs, each with a capacity of 4.0 Ah, to the test. The test winner with the grade of GOOD 1.9 was the Power X-Change 4.0 Ah battery from Einhell! It impressed with its longevity, stability and particularly reliable short-circuit fuse. We are thrilled that, after the test victory at Stiftung Warentest (11/2020) with the 2.0 Ah battery, we were once again able to prove our battery competence with the 4.0 Ah battery.
The test winner among cordless lawn mowers
The cordless lawn mower GE-CM 36/36 Li (2x4.0 Ah) from the Power X‐Change series is the test winner in the Stiftung Warentest! The quality powerhouse is your reliable and powerful helper for cordlessly taking care of medium-sized lawns. As part of the Power X‐Change battery system, the lawn mower has enough power for extensive use without annoying cables thanks to two 18V 4.0 Ah lithium-ion batteries. Additional benefit: Afterwards, the batteries can also be used in any other device in the Power X‐Change system.
5 out of 5! The AQUINNA garden pump impresses
With the AQUINNA 36/30 cordless garden pump, you can easily use your own rain, well and cistern water for watering in the garden with the help of 2x 18V batteries – without any annoying cables! As a member of the Power X‐Change battery system, the pump is compatible with all batteries in the system. This also impressed the testers for the magazine "Selbst ist der Mann" and earned AQUINNA the highest score. In addition to wireless freedom, the cordless pump also scores points when it comes to performance with a delivery height of up to 26 metres, a suction height of 8 metres and a maximum delivery volume of 3,000 litres per hour!
Other awards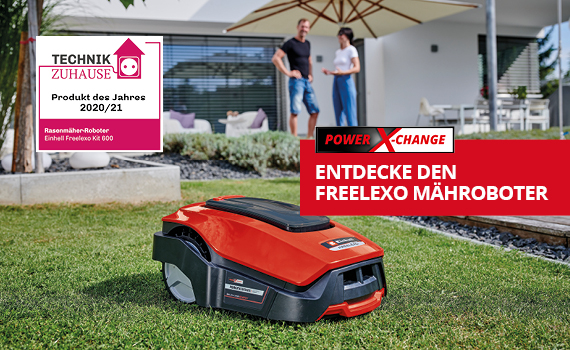 Product of the year 2020/21
Impressive battery competence: Freelexo awarded again
Not only our TV star, but also product of the year! After having already impressed in other product tests, the Freelexo robotic lawn mower was also chosen by 'Technik zu Hause' as the product of the year 2020/21. Thanks to its mowing performance, easy operation and attractive price-performance ratio, our Freelexo is "recommended without restriction". Experience it for yourself: Mowing freedom starts here!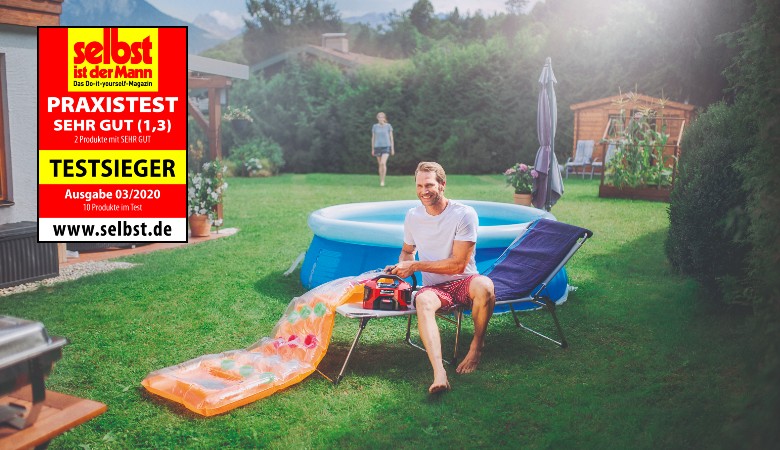 The PRESSITO cordless compressor
The Einhell hybrid compressor Pressito is a multifunctional compressor with high-pressure and low-pressure pump as well as the option for low-pressure suction. The practical hybrid compressor can also be operated with both a power cable and a powerful 18 V system battery from the Power X‐Change range (6-in-1 function) The Pressito, with its high-pressure pump for inflating vehicle and wheel tyres is not only a perfect addition for the garage, but also for on the road.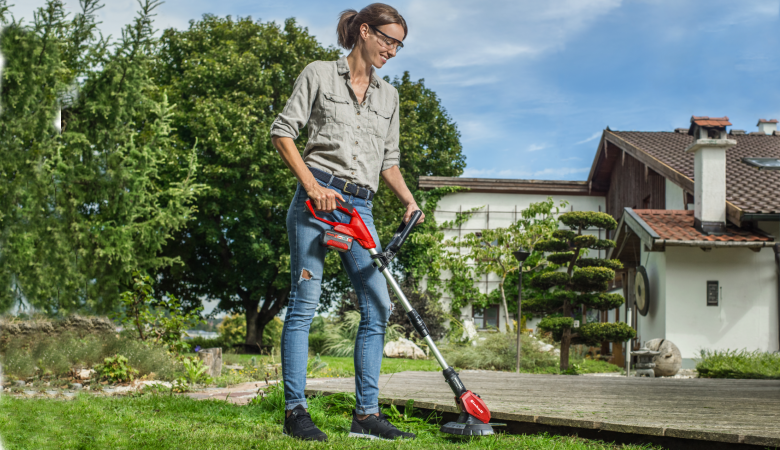 First place in the group test on WDR
Our Power X-Change cordless lawn trimmer GE-CT 18 Li has taken part in a product test in the "Markt" programme on WDR. The cordless grass trimmer impressed the testers with its power, precise sections and running time and finished in first place. The GE-CT 18 Li Solo is a powerful tool that ensures a well-maintained lawn wherever the lawn mower cannot reach. The GE-CT 18 Li Solo's infinitely telescopic guide rail adapts to any height and ensures comfortable handling. Test it yourself!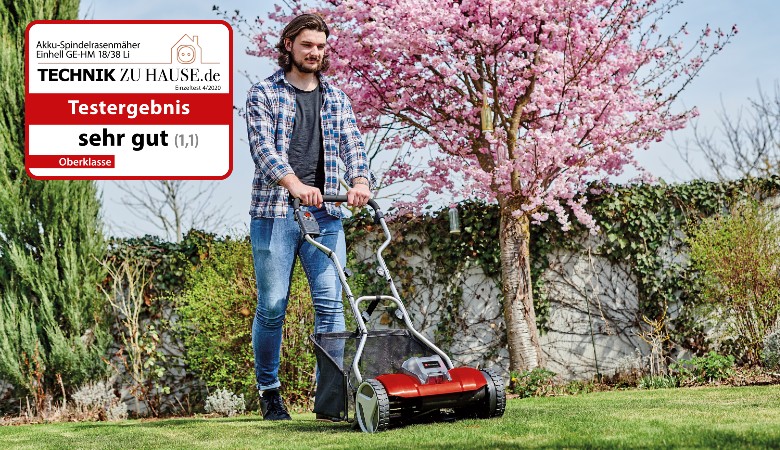 The cordless spindle mower GE-HM 18/38 Li
The cordless spindle mower brings "golf-ready" cutting results to your home garden with precision ground-cutting blades made of quality steel and the special cutting technology. As a powerful member of the Power X-Change family, the lawn mower can be conveniently powered with all batteries in the high-quality lithium-ion system series. With battery power, the mower is ideally suited for gardens up to 450 m², but can also be used manually, i.e. without a battery, even beyond that.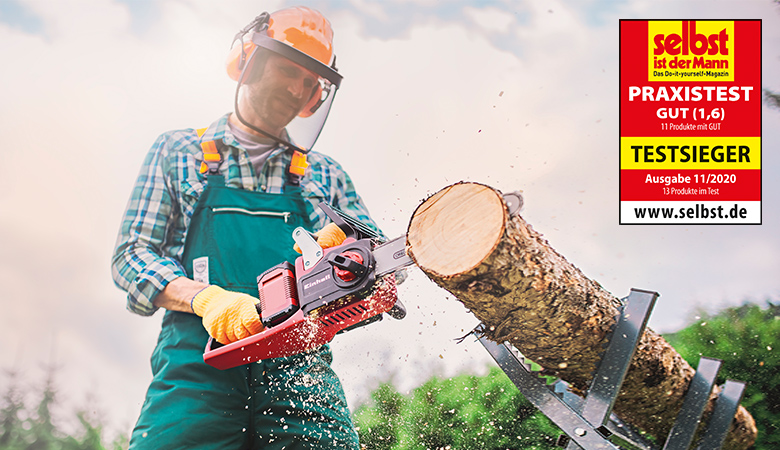 Einhell cordless chainsaw wins test
"Best match between very simple operation and good cutting performance." The cordless chainsaw GE -LC 36/35 Li was awarded a score of "good (1.6)" in the 11/2020 edition of "Selbst ist der Mann" and emerged as the test WINNER in a group test with a total of 13 chainsaws. The power is provided by two powerful 18V batteries and the brushless motor. Thanks to the OREGON quality sword with a length of 350 millimetres and a cutting speed of 15 m/s, it also works through larger logs.
More test winners for your garden
The best for your workshop
Top marks for the cordless circular table saw
In the latest group test from the magazine "Selbst ist der Mann", the cordless circular table saw TE‐TS 36/210 Li‐Solo scored the highest grade "Very good"! The circular table saw impresses with its compact design, its stable, precise stops and its long battery life. It is powered by two batteries, which can be used for many other devices in the home, garden and workshop thanks to our Power X‐Change battery system. This complete package can be ideally integrated into any small home workshop!
Silver medal for the cordless impact driver
The cordless impact driver TE-CD 18/50 Li-i BL (2x2.0 Ah) is a real all-rounder that combines screwing, drilling and impact drilling functions in one practical tool. As part of the Power X‐Change battery family, the driver is compatible with all batteries in the system. The brushless motor ensures better performance and a longer running time. In a recent comparative test by Stiftung Warentest, the Power X Change member scores points when it comes to screwdriving and drilling efficiency, versatility, safety and price-performance ratio. This ensures the screwdriver with the overall grade of 2.1 a strong second place!
Other award-winning tools
Cordless air compressor TE-AC 36/6/8 Li OF Set - Solo
In a recent comparative test by the magazine "Selbst ist der Mann", the cordless compressor TE ‐ AC 36/6/8 Li OF Set Solo impressed with its performance, air reserves in the 6‐litre boiler and an extensive accessories set. There are additional advantages for the Power X‐Change batteries, which can be used universally throughout the battery system. As a result, the Power X‐Change member earns the top grade "Very good" and joins a successful test series for our Power X‐Change battery system!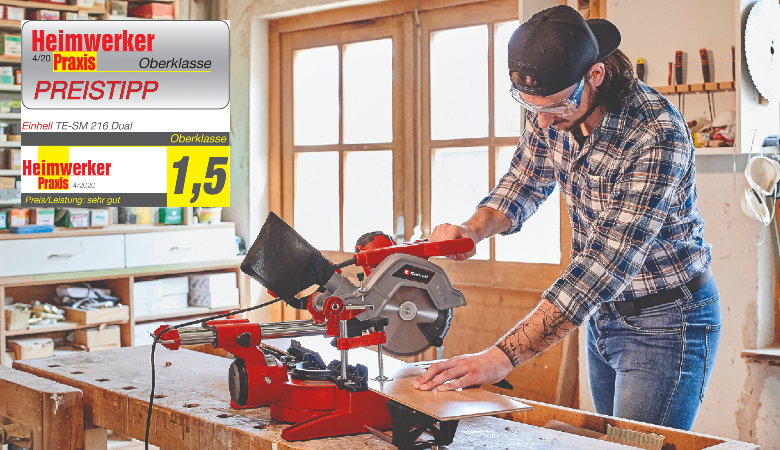 Pull-cut mitre saw TE-SM 216 Dual
With the pull-cut mitre saw TE-SM 216 Dual with reversible head, the ambitious DIY enthusiast is ideally equipped for sawing and cutting tasks in the home, workshop and garage. Due to the extensive features, such as a cutting laser, convenient angular quick adjustment or clamping device for fixing the workpiece, the saw was rated an overall grade of VERY GOOD in practical DIY use! The extra high-quality mounted pull function and saw head joint mechanism enable perfect gliding properties and particularly pleasant working.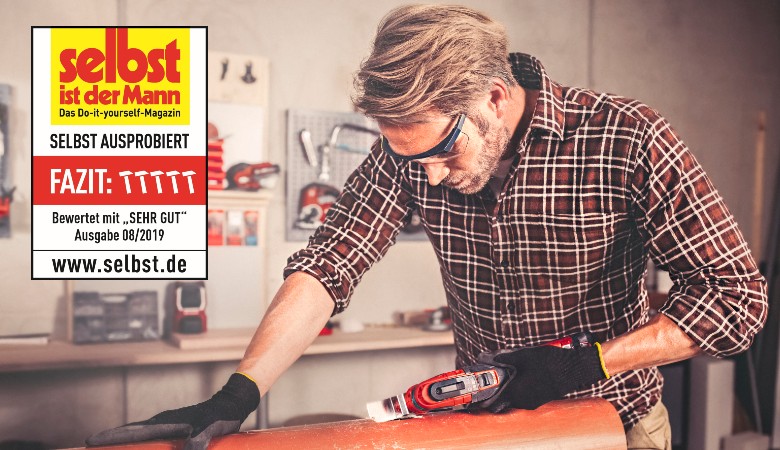 Top marks for all-rounder Varrito
The cordless multifunctional tool Varrito is a flexible and valuable device for extension, renovation and refurbishment work. Thanks to its extensive equipment, work steps such as sawing, sanding or scraping can be carried out effortlessly. As a member of the Power X‐Change family, users benefit from all the advantages of Einhell's high-quality lithium-ion technology.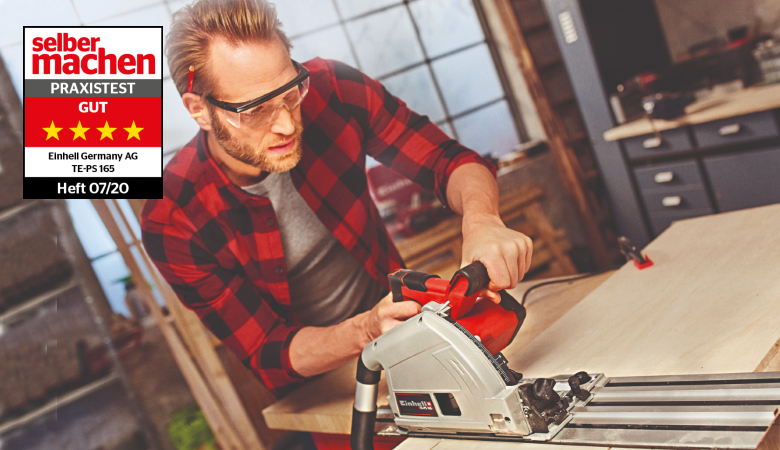 Powerful all-rounder for precise cuts
The Einhell plunge saw TE-PS 165 is a powerful all-rounder when precise cuts are to be made in a wide variety of materials. Whether wood, panels or plastics: The high-quality carbide saw blade works with up to 1,200 W power through materials up to a cutting depth of up to 56 mm (at 90° without rail).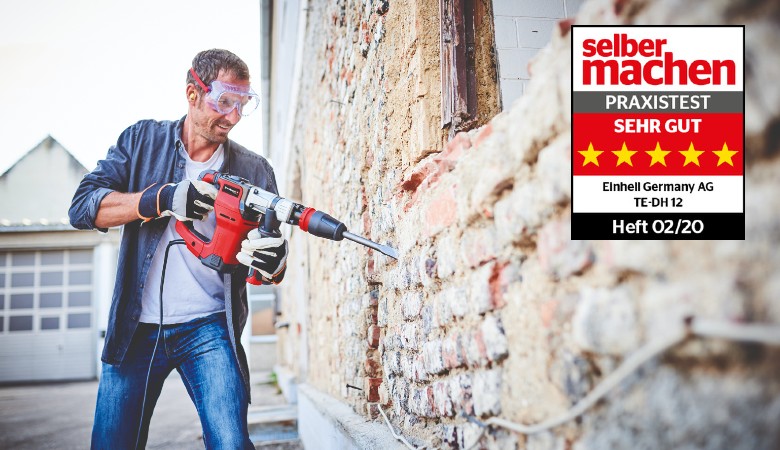 The ideal helper for home construction projects
The demolition hammer TE‐DH 12 is the ideal helper on the home construction site when it comes to getting things right: whether removing wall pieces or clearing floor and wall coverings, this demolition hammer delivers unimagined force – to the point – with a power consumption of 1,050 watts and a stroke rate of 4,100/minute.
More test winners for your workshop