Brought into shape: Cut back trees and hedges with the right tool
Is the hedge in your garden growing to unimaginable heights and the fruit tree simply getting too big? Then it's most definitely time for a prune. We all know that gardening can be quite sweaty work – especially if you have to work overhead. And let's be honest, pruning trees and hedges is no one's favourite gardening task. It's great that you can make these strenuous tasks a little easier with the right tool!
But the selection of gardening tools and device is huge! Pole saws, chain saws, hedge trimmers with and without telescopic handles, pruning saws, pruning shears, shrub shears, or a multifunctional tool that combines several functions? We explain which tool is suitable for which task, and what you need to look out for when you want to bring your trees and shrubs into shape with topiary or maintenance pruning.
Practical tools for tree-cutting
So that young shoots have enough strength to grow, fruit trees in particular should receive regular pruning. But you don't necessarily have to use a ladder to cut high branches. You can avoid such shaky affairs, for example, by using a pole saw.
Pole saws for prunning at a height
To put it simply, a pole saw is actually a mini chainsaw on a pole. These telescopic chainsaws are called pole saws and provide certain advantages when it comes to heavy pruning of trees at great heights.
Our pole saws from Einhell are available with different types of drive: Cable-free with Power X-Change battery power, or cabled electric pole saws. For large gardens where you want to move around freely, the lightweight cordless pole saw is particularly suitable because you can work completely untethered.
Chainsaw for powerful use
The pole saws larger counterpart is the chainsaw. The chainsaw is available as a petrol model, electrically powered or with a battery. With the chainsaw you can cut through even the largest branches and tree trunks relatively easily.
Compared to a pole saw, a chainsaw is larger, more powerful and heavier. It also does not have a telescopic handle. So, if you want to cut back the crown of a tree from the ground, it's better to use a high pruner. If you need more power, for example for cutting down trees close to the ground, the chainsaw is suitable for your project.
Compact pruning saw for thinner branches
The pruning saw works according to a different principle than chainsaws or pole saws. Instead of using a saw chain, the compact saw cuts through branches up to 90 mm thick with the help of a saw blade that moves linearly forwards and backwards.
So, if you want to cut easily accessible branches from trees or shrubs, you can reach for our small and lightweight cordless pruning saw. It's the perfect addition for everyday gardening.
Pruning shears for cutting single, thin branches
Just want to cut a few thinner branches from the tree or shrub? Then the cordless pruning shears from Einhell are what you need! The pruning shears are a smaller alternative to the cordless pruning saw: Instead of using a saw blade, the cordless pruning shears cut through thinner branches and wood up to 28 mm thick with two high-quality bypass blades.
The accurate, sharp and clean cuts promote the growth of the greenery. Thanks to the battery, which makes the hard work easier, you can work with the pruning shears for longer periods at a time without wasting energy.
The right tools for hedge-cutting
Hedges and shrubs are an integral part of most gardens. Whether they are planted decoratively, as a screen and boundary for the garden or as a habitat for insects and shelter for birds, evergreen hedges are extremely popular, and rightly so. But in order for the woody plant to be pleasing to the eye, it must be regularly cared for and pruned and that can be quite strenuous. But with the right tool you can make hedge trimming easier!
Hedge trimmers are a must-have for clean hedge cutting
With laser-cut and diamond-ground steel blades, hedge trimmers from Einhell get to grips with any undergrowth. Whether cordless, corded or petrol-powered – our hedge trimmers are optimally suited for bringing even larger hedges perfectly into shape.
With the additional handle, you can guide the hedge trimmer cleanly and precisely through the branches. This way, your shrubs will look well-groomed again and can grow back healthily.
Telescopic hedge trimmers for tall hedges
To safely and precisely cut tall hedges that you cannot reach without a ladder, you can use telescopic hedge trimmers or pole hedge trimmers. The telescopic handle acts as an extension of your arm when cutting the hedge. This also allows you to work overhead in a less tiring way.
Want to work even more flexibly? Then get rid of the cable and reach for a cordless telescopic hedge trimmer!
Whether cutting hedges into shape, felling trees or sawing off branches and twigs – you'll find the right garden tool for every application. With our multitools you can also cover several tasks with just one tool.
Multiple functions combined in one device
Do you have a big garden with a number of challenges? Want to maintain and trim hedges, shrubs, bushes, various fruit trees and trees with overhanging, high crowns, but don't want to buy a new tool for every task? Why not consider a multitool? Einhell offers different multitools for your garden!
2 in 1: Hedge trimmer and pole saw
A pole saw and telescopic hedge trimmer in one – the perfect fit! Two tools combined in one, for example, the GE-HC 18 Li T-Solo cordless multitool or the GC-HC 9042 T electric pole hedge trimmer/saw. Equipped with a chainsaw attachment and a hedge trimmer attachment with laser-cut and diamond-ground steel blades, you can both cut tall hedges precisely and carry out the necessary tree pruning at height.
And the best part? Not only do you save money, but you only need space to store one device!
2 in 1: Grass and shrub trimmers
Do you have small bushes and shrubs that need pruning, or do you just need to touch up some small details on your hedge? In some cases, a conventional hedge trimmer may be too big for this purpose. For these detailed jobs, however, a shrub trimmer that is compact and equipped with shorter, but also laser-cut and diamond-ground steel blades is more suitable.
Einhell offers these shrub trimmers as a 2-in-1 device, namely as a cordless grass and shrub trimmer – depending on the model, even with a telescopic handle.
Multitools: Sycthe, hedge trimmer and pole saw
Two functions in one tool just not enough for you? Then how does a 4-in-1 device sound? The cordless multitool GE-LM 36/4in1 Li or the petrol multitool GC-MM 52 | AS are examples of these great all-rounders!
Whether used as a pole saw, telescopic hedge trimmer or as a scythe with thread or blade, the multifunctional tools are powerful assistants when it comes to cutting grass, hedges or trees!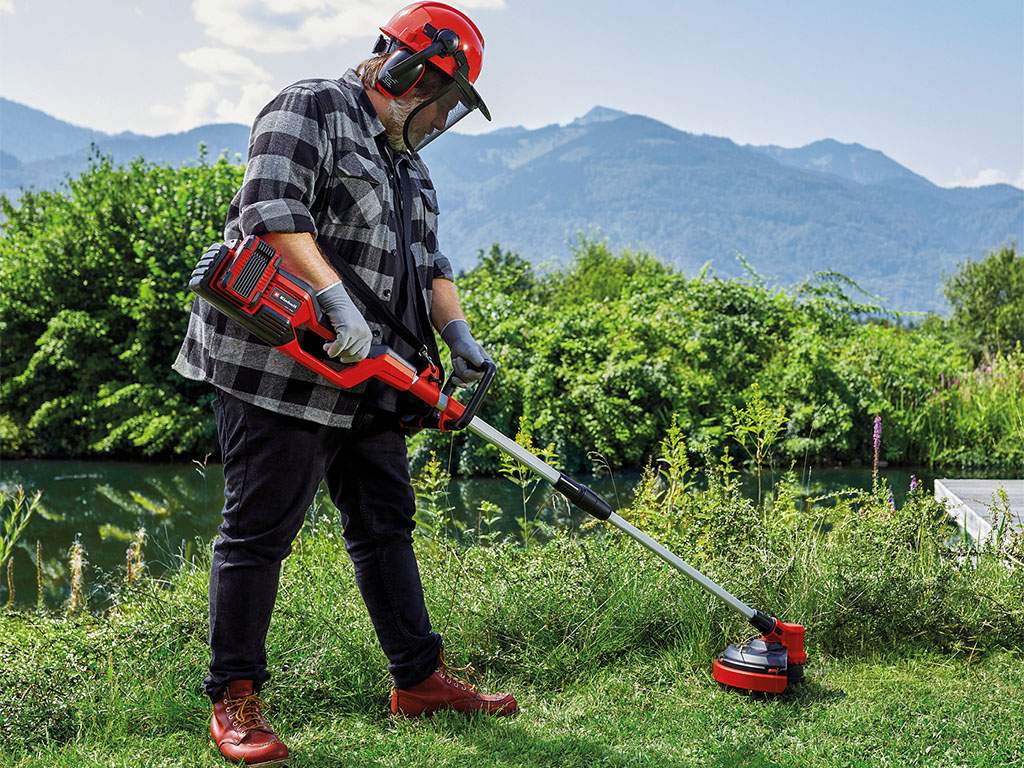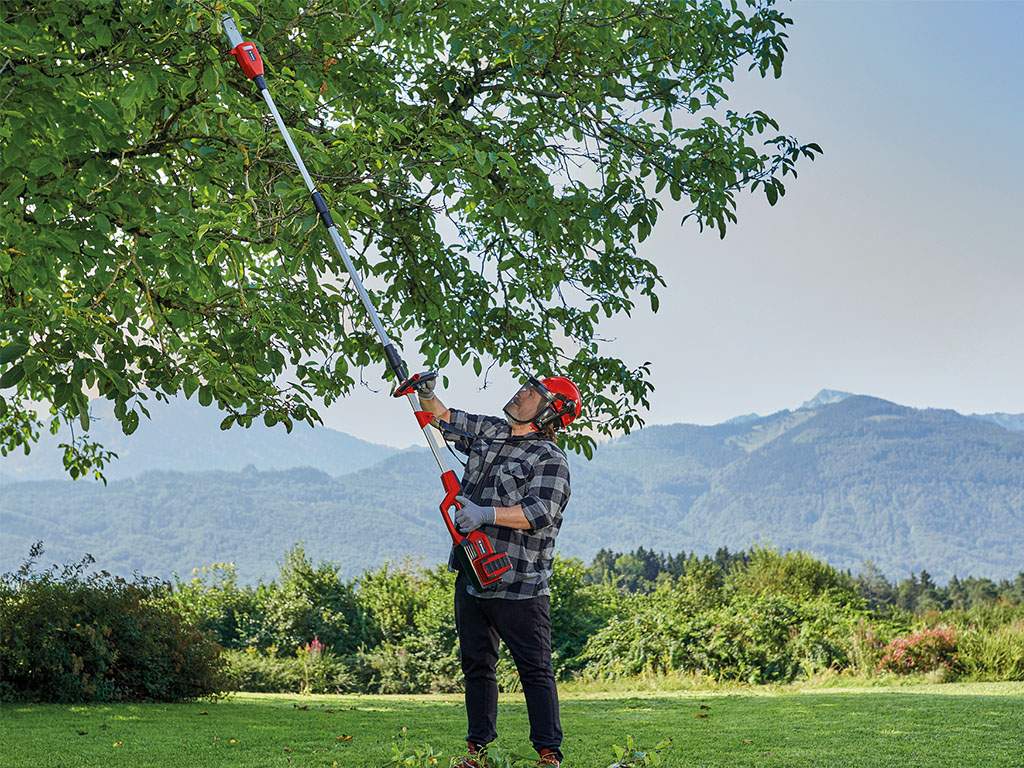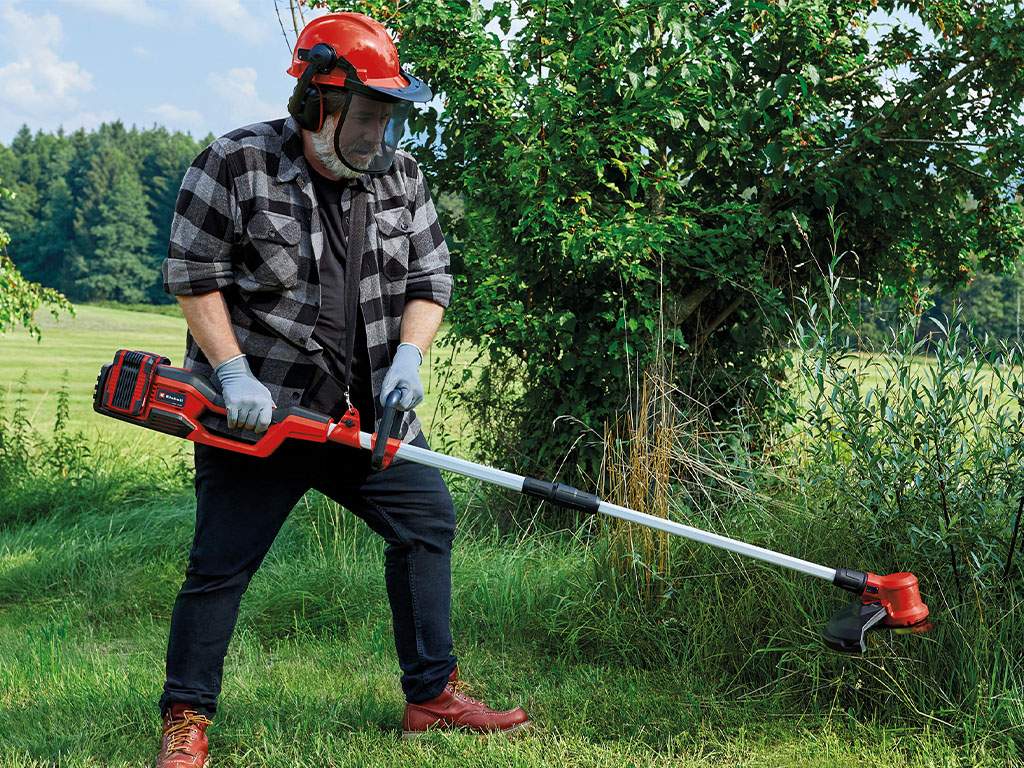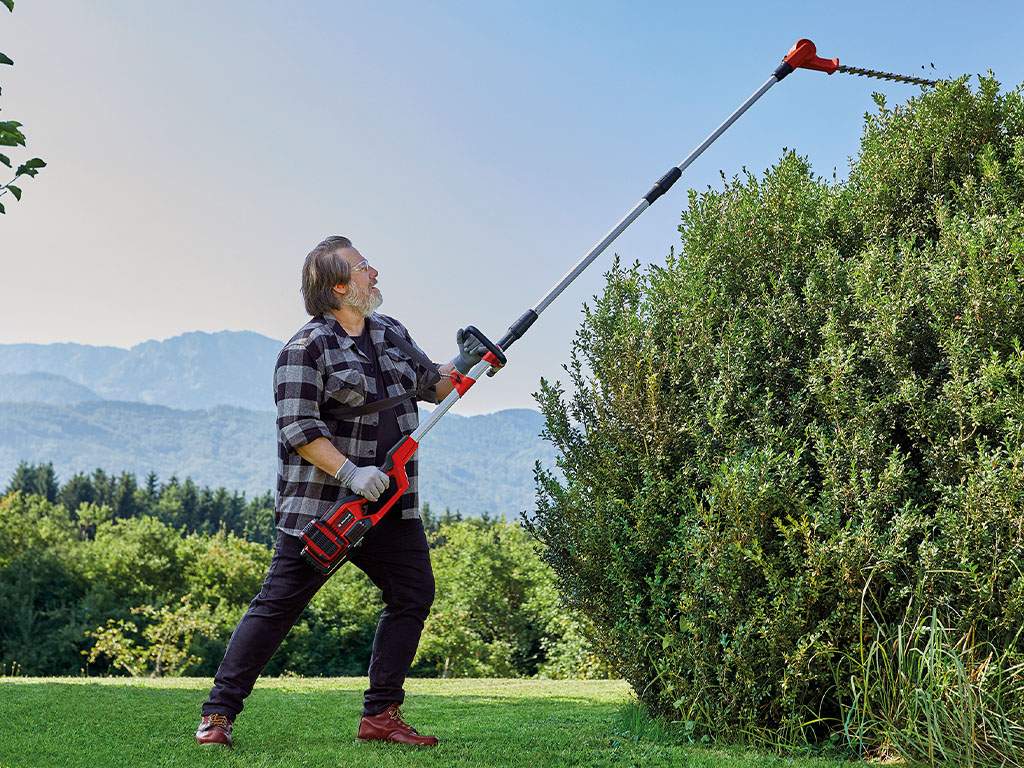 Summary: Make heavy gardening easier by selecting the right tool
Gardening, especially trimming hedges, shrubs and trees, can be arduous and exhausting. If you work with heavy equipment or have to use a lot of force, it puts strain on your arms and you can literally feel the soreness coming on. But by choosing the right equipment, you can make hedge and tree-trimming a lot easier – and working with powerful equipment is fun, too! You can choose and combine your equipment depending on how your garden is built.
You are even more flexible with our Power X-Change family: Every PXC battery fits into every cordless garden tool – so you can always trim your trees and hedges with the right tool and, thanks to battery support, you have to use less power yourself.
In this article you will learn all about: