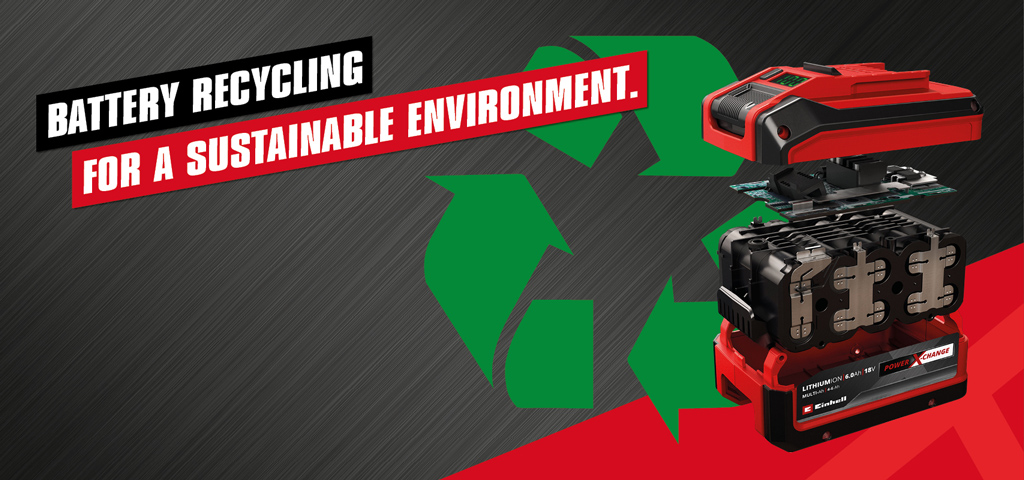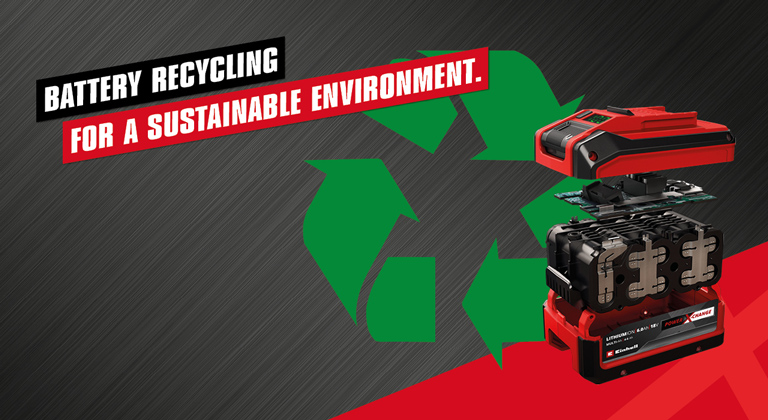 Einhell recycles your battery
Our contribution to greater sustainability
With millions of Power X‐Change batteries already sold and as a pioneer in the field of battery technology, we see ourselves as a role model when it comes to sustainability. This includes sustainable use of valuable resources such as cobalt, copper, nickel and many other raw materials. That is why we offer our customers all-round service, not only for the lifetime of the battery, but also beyond this, by taking care of the recycling of used batteries. Below, we explain exactly how our battery takeback scheme works.
Einhell recycling process
Recycling your Einhell battery, step by step
1. Collecting your details
Simply fill out the form below with your address and customer details. This allows us to record the recycling order for your old battery with us. We also need some information about your battery, such as its article number and the version of the battery. We also need information about whether the battery still works.
2. We'll send you a shipping box
After submitting the form, we will check all the information and provide you with a free shipping package with further information on how to package and ship your Power X-Change battery. Of course, we also take care of the shipping costs when taking back the battery.
3. We'll recycle your battery for you
When it comes to recycling, we rely on the European market leader in battery recycling: Redux GmbH. The company draws on 20 years of experience and also boasts the largest industrial plant for Li‐ion recycling. Thanks to modern recycling – according to German environmental and safety standards – a maximum amount of recyclable materials such as stainless steel, aluminium, copper, plastic and active mass is recovered from the cells from each lithium-ion battery. To achieve the best possible results, Redux GmbH separates housing parts from electronics and modules and handles them carefully. This means that in addition to recycling 90% of the metals from lithium-ion batteries, the highest possible safety for customers and the environment can be guaranteed.
Redux Recycling in figures
Battery disposal by Einhell
We recycle your battery for you
To dispose of or recycle your battery, we still need some details from you:
Power X-Change
A sustainable battery system
1 battery - 1,000 possibilities not only symbolises the usability of our Power X-Change batteries for the entire product range in the tool and garden sector, but also describes a simple ecological advantage: with just one battery of the Power X-Change platform, the use of more than 300 tools is possible.
That's why Power X-Change stands for more sustainability:
Fewer batteries and chargers | Less raw material and energy required, less environmental impact.
Longer service life | Fewer re-purchases necessary and therefore resource-saving.
More environmentally friendly than petrol | Zero emissions during use.
Efficient energy use | Smart battery control and Li-Ion technology reduce energy consumption.
PurePOWER Brushless motors | Longer running times, longer service life, maintenance-free.
One system for all devices | 1 battery type for workshop, garden, leisure and your home.