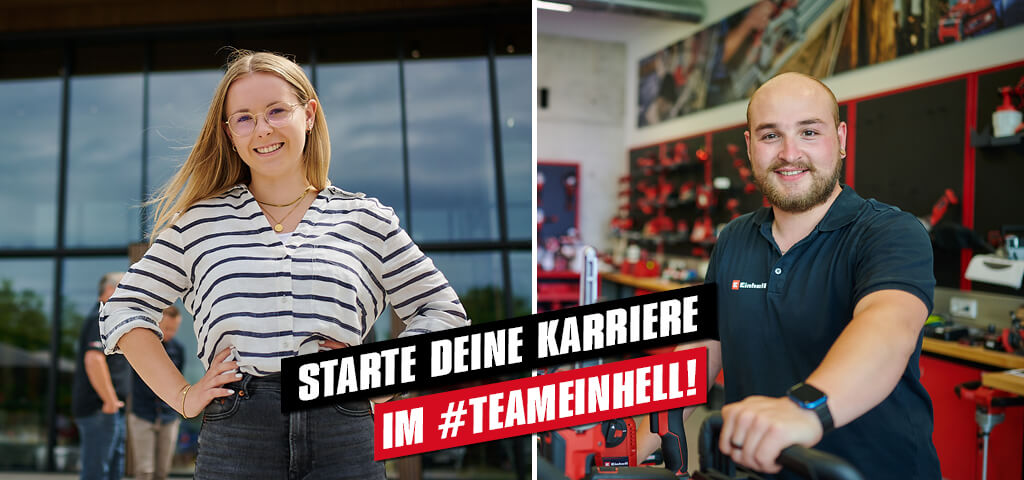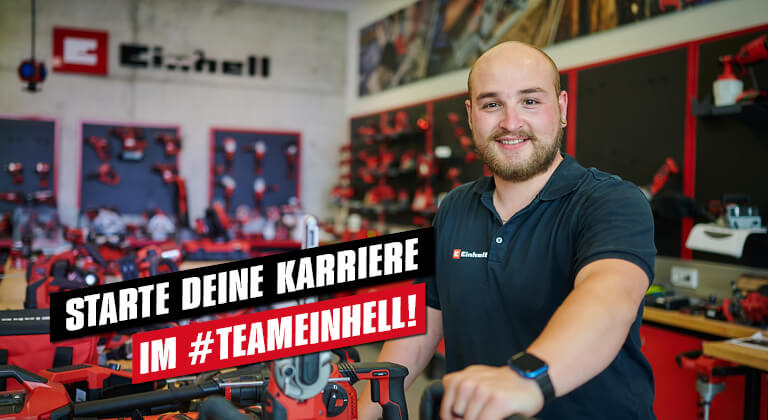 We are the #TeamEinhell.
With over 2,400 dedicated team members worldwide, we were able to break the one billion euro sales mark, proudly adding a new shared milestone to the Einhell success story.
This moment of success is based on a strong team, a shared vision and our boundless passion. With this success behind us, we are boldly setting ourselves new ambitious goals, which we are pursuing with determination in order to conquer the DIY market of tomorrow together.
Our DNA:
We are visionaries! With our ideas, our motivation and our courage to change, we are constantly discovering new opportunities, shaping the future and establishing ourselves as a permanent fixture in the market.
#thinkbig
We win together! In a team of over 2,400 members worldwide, we work on the implementation and further development of our ideas every day. Open communication, respectful interaction and our strong team spirit have made the incredible success of recent years possible and allow us to continue writing our success story page by page.
#teameinhell
We are unstoppable! As an international company, we impress with our battery expertise across borders. With 49 subsidiaries and 99 sales partners, we are already achieving great things and are ready to expand our network even further.
#globalplayer
To the job portal.
Many exciting jobs are waiting for you in our job portal. Apply quickly and easily for current vacancies via our online portal:
Join the team now!
Many advantages await you.
Up to 50% on all products
With a wide range of offers
Flexitime and mobile working
Company celebrations and events
600 Euro tax-free benefit in kind
Your entry opportunities.
Whether you are an expert or a career starter, we offer you numerous entry opportunities at Einhell and support you in pursuing your career goals.
Our success in figures.
Together we have achieved great things!
Join us on our mission!
Find out exciting news from the Einhell world here.
Employer with distinction!
Einhell is one of the top employers in Bavaria and offers you excellent perspectives for the future.
Do you still have questions?
We have the right answers!
How long will it take before I receive a response to my application?
As soon as you have submitted your application, you will immediately receive a confirmation e-mail. Our HR managers will review the applications directly and discuss them with the specialist departments. You can expect to receive a response within 14 days, either by phone or email. Do not hesitate to contact us at any time to find out about the current status of your application. Simply send an e-mail to [email protected] or call us on 09951 942 275.
How does the application process work?
Our application process usually consists of two steps to enable an active exchange: First, there is an initial interview, either in person or online, during which we get to know each other. If this interview is positive for both sides, we will invite you to a second meeting at our premises. There we will discuss the content of the job offer in detail. During the second interview, you will often also have the opportunity to meet your future colleagues and get a precise impression of your future workplace.
In some cases, a personal interview is sufficient. Our team will of course inform you about the exact procedure in advance.
What makes Einhell a special working environment?
We at Einhell offer you the opportunity to find your professional home here in Landau a.d. Isar, in beautiful Lower Bavaria. Thanks to our many years of positive development, we have become an extremely successful and globally active company in which you can develop both professionally and personally. Despite our enormous growth, we have succeeded in retaining the structures of a medium-sized company with flat hierarchies and short decision-making paths.
What is the Einhell Academy?
We not only want Einhell to grow as a company, we also want to grow together with you! With our Einhell Academy, we give you the opportunity to actively combine your personal development with the achievement of our corporate goals. We offer a wide range of individual training opportunities in all areas and also support private training projects.
How can I prepare for a job interview?
In order to be as well prepared as possible for the interview, we recommend that you read and study the job advertisement thoroughly in advance. In addition, our homepage offers you the opportunity to find out more about our company and our corporate culture. This will give you a first impression of what you can expect at #TeamEinhell. The interview is an opportunity for both you and us to get to know each other personally. Our aim is to find out whether you are a good fit for the position, both professionally and personally. It is very important to us that you can successfully contribute your strengths to #TeamEinhell.
How long does a job interview last?
A job interview usually lasts between one and one and a half hours. However, depending on the position you are applying for, it may take a little longer. It is therefore advisable to be prepared for an interview of around 1 to 1.5 hours, but it won't hurt to allow a little more time if the interview takes longer or you need to visit the department afterwards. During the interview, be attentive and ready to answer questions and show your interest in the job and Einhell. Don't forget to ask questions yourself to find out more about Einhell and the working conditions. Good luck with your interview!
How can I cancel an interview?
If you need to postpone or even cancel an interview for any reason, you can contact our team at any time. You can reach us either by e-mail or by phone.
If you would like to reschedule the interview, we will do our best to find a new date that works for you and us. We understand that unforeseen situations may arise that require rescheduling and we will do our best to be flexible and accommodate your needs.
When will I receive feedback after an interview?
Our ambition is to make the application process as efficient as possible and to give you prompt feedback. In most cases, you can expect to hear from us within two weeks of the interview. However, we would like to emphasize that a thorough evaluation of applicants is a priority in the selection process to ensure the best possible match between the candidate's skills and the requirements of the position.
During this time, we ask for your patience and understanding. We know how important it is to receive clear feedback, especially after an interview, and we strive to do this as quickly as possible. Should there be any delays for any reason, we will inform you and keep you updated
What can I expect at an interview?
The interview at Einhell is designed to cover a variety of topics to get a comprehensive picture of you as a potential candidate. At the beginning of the interview, our internal interviewers will warmly introduce themselves to you and also tell you something about their role and experience in the company.
In the next step, you will have the opportunity to introduce yourself to us using your CV. We would like to find out more about your career to date, your qualifications and your experience.
The department in which the advertised position is located will then present the various tasks and content of the position in more detail.
Finally, we will ask you some administrative questions that are relevant to the application process. These may include questions about your availability, salary expectations or references.
Our aim is for you to have a pleasant and informative interview with Einhell. We look forward to getting to know you better and seeing how you can contribute to our dedicated team. Thank you for your interest in a career at Einhell and we look forward to getting to know you!
Does Einhell offer home office / remote work?
Einhell offers a flexible arrangement for mobile working or working from home. The frequency with which you can use this option depends on the internal circumstances of your position and department. As the tasks in the different departments may vary, your team will work with you to agree the specific arrangements for home office, office and remote work in detail.
Our aim is to create a working environment that takes into account both the individual needs of the employees and the requirements of the respective tasks. We know that some tasks are better done in the office, while others are perfect for working from home or another location.
Does Einhell offer flexible working time models?
We work with functional working hours in almost all areas (no core working hours). This means that the individual teams base their working hours on the internal and external contacts in the department. Thanks to our flexitime system, you can organize your working hours individually in consultation with your colleagues.we work with functional working hours (no core working hours) in almost all areas. This means that the individual teams base their working hours on the internal and external contacts in the department. Thanks to our flexitime system, you can organize your working hours individually in consultation with your colleagues.
Become part of the community:
Our social media channels at a glance.
Your place in #TeamEinhell.
You can rely on us
Your Einhell professionals are there for you:
Team Recruiting
Your contact persons for:
Advertised positions
and Application process
Einhell Germany AG | - Human Resources Department - | Wiesenweg 22 | 94405 Landau / Isar