Einhell goes outdoor
Off to new adventures!
Before you can explore the world and enjoy freedom in your own four walls, you still have to do a lot of screwing, sawing and rebuilding. How to build your dream camper, what you need to bear in mind and which In our Einhell Goes Outdoor Camping Special, you can find out how to build your dream camper, what you need to consider and what tips and tricks you can use to prepare for such a project as a beginner. Experienced DIY Van Life experts show you step by step how you too can fulfil your dream of freedom on four wheels. Have fun building your own van!
For more information on our theme special, please visit the German website.
"Home is where you park it."
Our vanlife & DIY experts
Alina & Timo
Vanlife | Van Build | Travel
Hi, we're Alina and Timo from Sprintour. Many years ago, vanlife fever caught us. After remodelling a Caddy ourselves, a Sprinter followed, which we used to travel around Europe for a year. The van conversion captivated us so much that we wanted to do more of it! So we founded a company and are now converting vans into motorhomes full-time. Our passion has become our profession. And you can be a part of it, too!
Instagram: @sprintour | Website: www.sprintour.de
Their projects
Sabrina & Igor
Vanlife | Hiking | Dogs | Life
Hi, we're Brina, Igor and Gerda from Explore the Outdoors. In summer 2018, we converted our first van, a Mercedes Benz Vito, and took many fantastic trips with it. Our three-week trip through the Scottish Highlands was a particular favourite. In June 2020, we then switched to a bigger model for a number of reasons and got a Sprinter. Due to the standing height, it not only offers us a little more "luxury", but also, most importantly, enough space for our dog Gerda. We are almost done with the conversion and can't wait to finally travel again.
Instagram: Brina.Explores & Igor.Explores | Youtube: brina.explores
Their projects
Selina & Frank
Vanlife | DIY | Family
We are Selina, Frank and Fiete and have been passionately on the road, travelling the world in our van for many years. Our love for independent, easy travel with an extended bus began in Australia and New Zealand. It quickly became clear that we needed our own bus, which we can design according to our ideas and needs. After a good four years of conversion, adaptation and improvement work, we had created the perfect camper for us with our VW T4, called Rudi. Then our son Fiete came along and our needs changed! For almost a year now, we have been expanding our wonderfully large Mercedes Sprinter – christened Bruno – and creating our new dream home on four wheels.
Their projects
The ultimate guide for vanlife newbies
Everything you need to know about camper conversion & vanlife
Does vanlife appeal to you and you're toying with the idea of converting yourself a camper?
In this guide, we help you with basic decisions so that you can make your dream of owning a camper come true.
"A camper should have everything you need to travel on a bus, such as a bed, kitchen and wardrobes. You're essentially building yourself a little home on wheels. This is very challenging and exciting at the same time."
Project: Building your own camper bed
Load-bearing, space-saving and versatile
Think good, restful sleep is only possible in your own bed at home? Not with this bed! For all those who used this excuse to get away from camping – you have to come up with something else. The bed is not only super comfortable with the matching mattress, it is also a real space-saving miracle. If you need space, it can simply be pushed together. A real master construction, which you can also build with our instructions. Download and print the instructions or take them to the workshop or garage on your phone or tablet. And have fun building it!
Project: Roof terrace on the camper
A little piece of luxury and pure freedom
Travelling in your own camper van is pure freedom! But the space is often limited – after all, a lot has to go into the home on four wheels. That's why Frank and Selina want to make the most of all the possibilities of their van. With a sun terrace for their van, Bruno, our vanlife experts are literally adding to their freedom. On the new top floor you can relax, enjoy the sun and watch incredible sunsets. The basis for this is a roof rack – and you can learn how to turn it into a terrace where you can walk on in this guide. Have fun making it!
Project: Camper bathroom cabinet
The space miracle for all your bathroom utensils
You dream of a bathroom cabinet in the camper van - but there is just not enough space? This was the problem Alina and Timo faced during the conversion of their camper. This lead them to come up with a practical solution for integrating a small bathroom corner into their van. They store all their care and hygiene products, mirrorsand much more safely and in a space-saving manner in their homemade pharmacy cabinet. How they built the bathroom cabinet, they will tell you in this guide. Have fun making it!
Project: Camper Kitchen
A well-equipped kitchen is essential to ensure that the culinary delights in your own camper are not neglected! The two Vanlife experts Timo and Alina have created a lightweight kitchen in their Mercedes Benz Vito, in which the gas cooker, cooler, sink and much more can be accommodated. And it also looks stylish! With their construction instructions, you can equip almost every van with a kitchen you built yourself and adapt it structurally to your needs and your vehicle. Have fun making it!
Recommendations from our experts
for camper conversion
Outdoor Action
powered by Einhell
Pressito Hybrid-Compressor
Multifunctional removable power pack.
The Einhell hybrid compressor PRESSITO is the ideal companion for camper van journeys, because it can be operated with a power cable as well as with a powerful 18 V system battery from the Power X Change range. It combines the functions of a high-pressure and a low-pressure pump and also offers the option of low-pressure suction. Thus, the multifunctional PRESSITO is not only the perfect travel companion in the event of a puncture, but can also be used to inflate air mattresses, bicycle tyres or even balls.
Cordless Light
Gradual illumination with 2,500 lumens.
The Einhell battery torch TE-CL 18/2500 LiAC – Solo shines light into the dark with 2,500 lumens. The battery torch is not only practical in poorly lit places such as the basement, the construction site, the attic or in dark corners of the workshop. With two brightness levels, it also offers full visibility in the camper van, especially at night. It is also the perfect companion for power outages, night-time strolls, sunset walks and other outdoor activities, when a power-independent light source is not to be dispensed with. All batteries in the Power X-Change family can be combined with the torch.
Jump-Start - Power Bank
Compact, handy starting aid and power station.
The Einhell CE‐JS 18/1 Jump‐Start – Power Bank is a compact, handy starting aid and energy station and is therefore the ideal companion in any vehicle and on the go. Numerous adapter cables can be used to recharge empty car batteries as well as to quickly and easily charge devices such as mobile phones, laptops, cameras, etc. Another useful function is the integrated LED working light with continuous light, strobe flasher & SOS signal for various emergency situations. The high-performance lithium polymer battery with a capacity of 3 x 6,000 mAh ensures sufficient power.
Other wireless helpers
For your outdoor & vanlife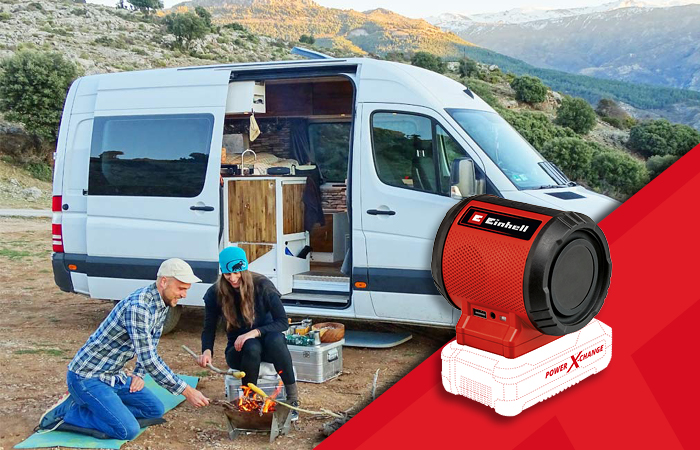 Strong sound whenever and wherever you want
The Einhell cordless speaker TC‐SR 18 Li BT – Solo ensures good sound at all times, both in the camper van and in the evening around the campfire. In addition to the simple connection to all Bluetooth-enabled devices, the speaker also has an AUX input for connecting MP3 players or smartphones. Thanks to its USB connection, it can also be used as a charging station for smartphones, tablets or MP3 players. The intuitive control panel also makes it easy to use. As a member of the Power X-Change family, all high-quality lithium-ion batteries in the system range can be combined with the cordless speaker.
Cordless Wet/Dry Vacuum Cleaner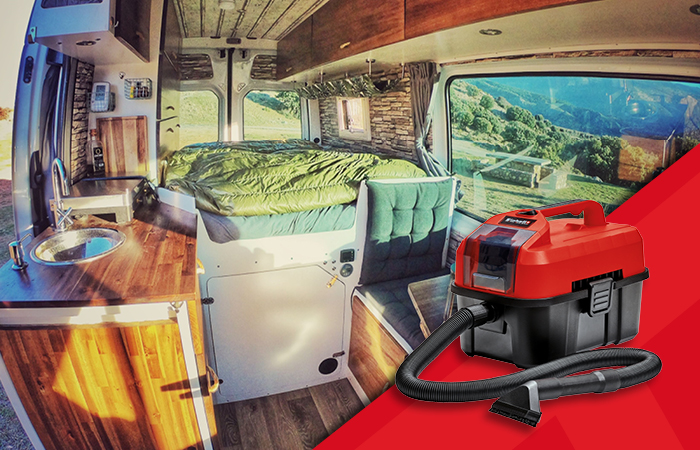 Square, practical, handy.
The Einhell cordless wet/dry vacuum cleaner TE-VC 18/10 Li-Solo is one of the must-haves for your next camping trip, because this member of the Power X-Change family removes all dust, dirt and even liquids from your camper. It can also be used on tiles, carpets or other floors. A blowing connection is used to blow out hard-to-reach areas and the ergonomic design and the carrying handle ensure easy transport and make it more user-friendly. In addition, the multifunctional, multi-purpose vacuum can be easily combined with all Power-X-Change batteries in the system series.
Cordless Multifunctional Tool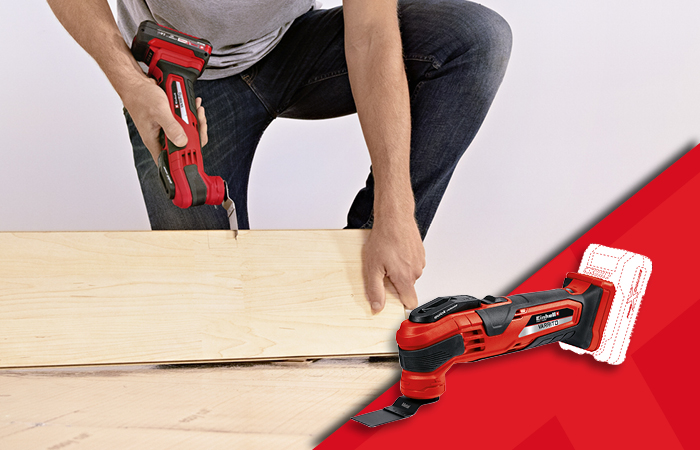 Versatile helper
The Einhell cordless multifunctional tool Varrito is a flexible and high-quality helper for your camper van conversion. Thanks to the extensive equipment of the Power X‐Change device, work steps such as sawing, sanding or scraping can be carried out effortlessly. All batteries of the Power X‐Change family can be easily combined with the tool. The cordless multifunctional tool is high-quality and ergonomically designed, so that it greatly simplifies the work required in the van. The quick-release lock ensures tool-free accessory changes. Thanks to the magnetic tool holder, this can be carried out easily and quickly. The 12-pin tool holder also allows flexible positioning of accessories.
"Life is a beautiful ride."