How to use leaves and green cuttings in your garden
Mowing lawns, cutting hedges, collecting leaves – all year round, garden waste accumulates. But especially in autumn, remains from tree pruning, hedge and shrub cuttings and the last trips with the lawn mower all accumulate. But where should all the cuttings, leaves and branches end up? Not all of this has to end up in the organic waste bin or be disposed of at the recycling centre. Learn how to use lawn cuttings, leaves and other garden waste in your garden in this article.
What to do with garden waste?
Many home gardeners simply dispose of smaller quantities of green cuttings and leaves in their organic waste bin. However, this is not very ecological, because you could just as well use this waste for the coming garden season or to support the local wildlife.
Under no circumstances should you just burn leaves or branches! Depending on where you live, this may even be illegal. Even if it is permitted by your state's laws, the municipality or the public order office, such fires must always be registered and approved in advance. However, it is not only from a legal point of view that the burning of garden waste is problematic, because the resulting smoke is harmful to the environment, affects wildlife and may disturb your neighbours, as well as posing a considerable fire risk.
Nevertheless, if you regularly maintain your garden, every now and then waste will be generated. We've listed the gardening tools that are most commonly used in private gardens:
Practical tools for garden maintenance
Hedge trimmers: Whether as a fence replacement or for decorative purposes – to keep your hedges luscious and healthy, they should be cut back once or twice a year. Depending on the hedge, leaves and branches are produced as a waste product.
Grass and shrub trimmers: The 2-in-1 devices are not only used to trim tight spaces, corners and edges of the lawn, but are also used to shape up shrubs and bushes thanks to the shrub trimmer blades. Thin branches and grass should be recycled or disposed of.
Chainsaws and pruning saws: Whether cutting down trees or sawing off individual branches, the wood residue that accumulates during tree maintenance can often be put to use as firewood.
Scarifiers: So that the grass roots get enough important nutrients, water and air to grow healthily, it is advisable to scarify the lawn at least once a year. In the process, turf felt, dead grass residue and moss are removed and are produced as waste product.
Lawn mowers: The classic among garden tools, which should not be missing in any household with green space. When regularly mowed, the lawn grows back healthy. The remaining lawn cuttings therefore accumulate repeatedly in spring, summer and autumn.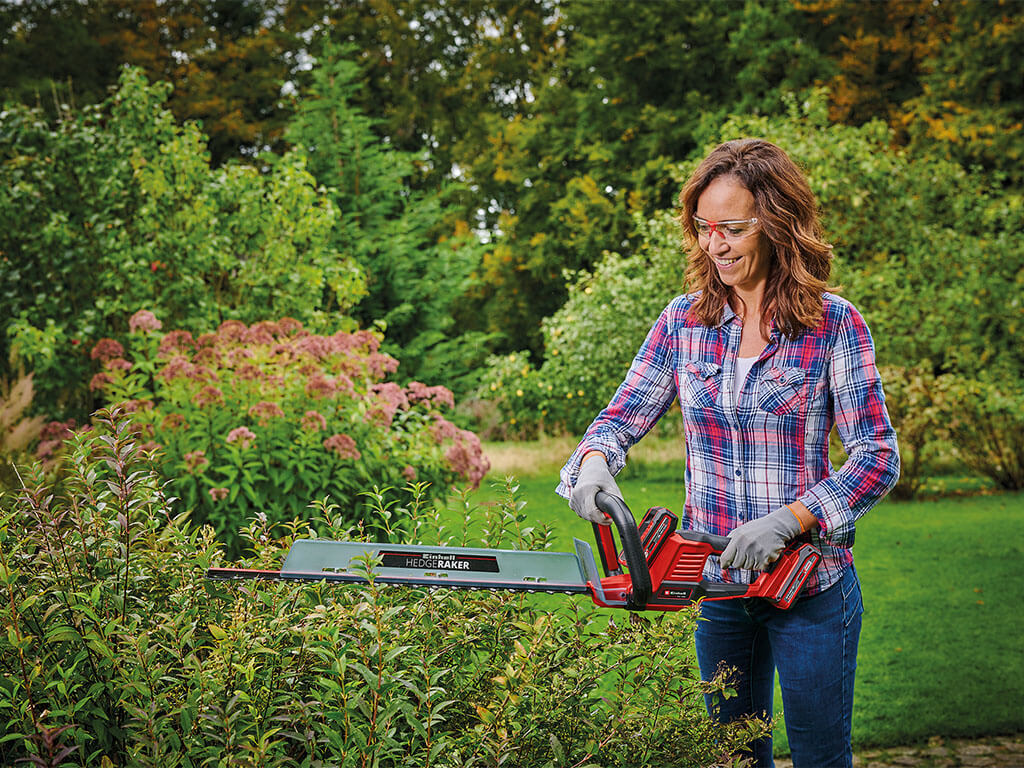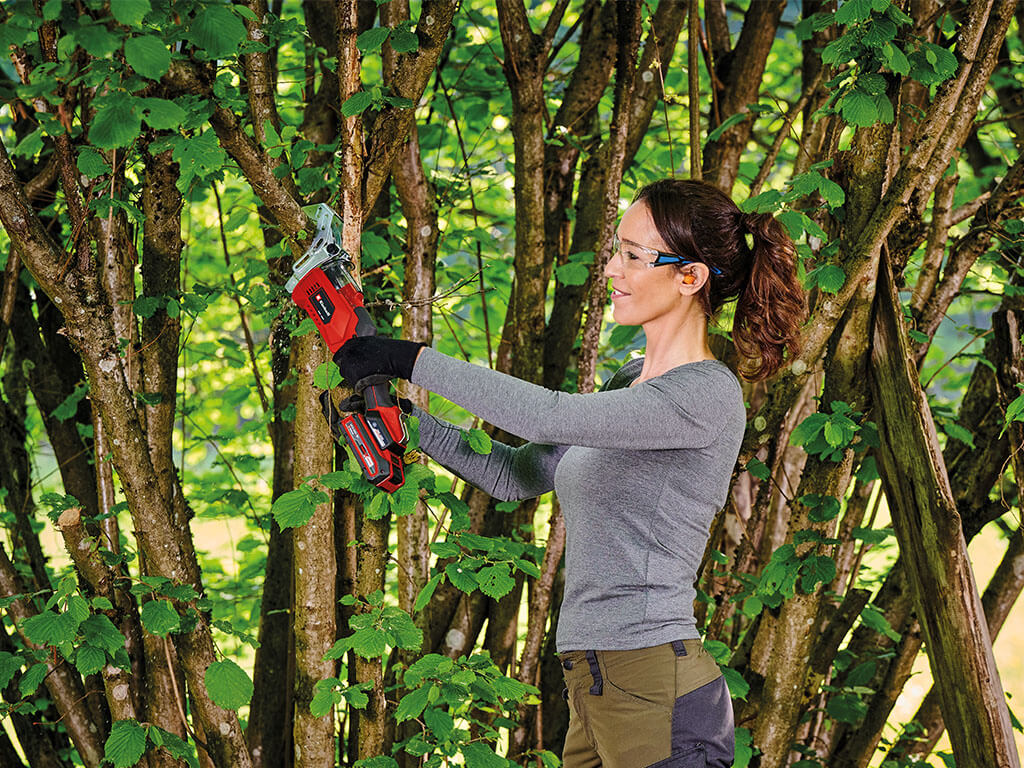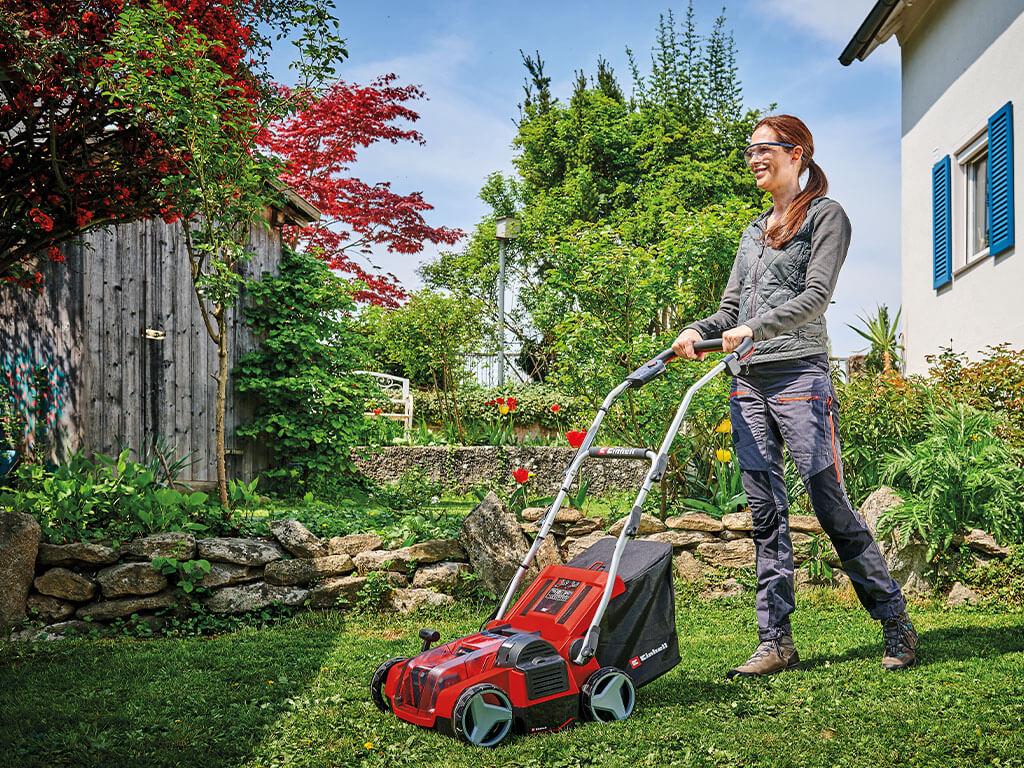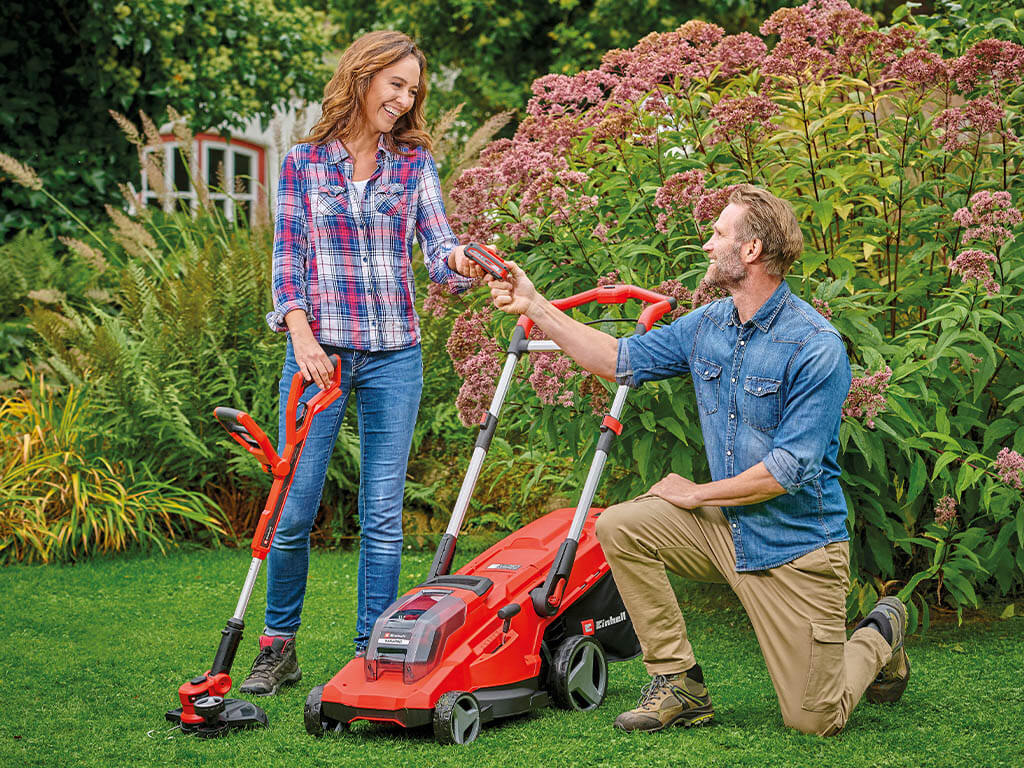 To make use of the by-products that arise during gardening, these devices are practical helpers:
Leaf blowers: Helps you gather the colorful leaves that gather in your garden.
Leaf vacuums: With a leaf vacuum, you can not only collect the leaves in the collection sack, but also shred them directly through the integrated shredder. The leaf vacuum is not suitable for shredding branches.
Shredders: Branches, plant remains, shrub and hedge trimmings – in the garden shredder you can shred almost all garden waste. You can then use it for composting or as a mulch. You can find out exactly how to do this below.
How to put garden waste such as branches, hedge trimmings and grass cuttings to good use
Composting
A compost heap in your garden makes sense for a number of reasons: There you can not only dispose of a lot of your garden waste, but also use it for certain kitchen waste, instead of just disposing of it in your organic waste bin. For example, peelings and leftovers of fruit and vegetables, coffee grounds and filters as well as tea bags and egg shells can find their way to the compost heap. Leaves, moss, plant remains, old soil, as well as grass cuttings and chopped branches and twigs rot on the compost heap to form valuable humus, which you can use for your garden.
You can find more detailed information on how to compost properly and what exactly you are allowed to put on your compost heap in the compost guide from the German Environment Agency (Deutsches Umweltbundesamt).
Produce your own mulch
Mulch, or special types of mulch such as bark mulch, are usually available in any garden centre and in most DIY stores. But did you know that you can make mulch yourself? A mulch layer not only serves as frost protection for plants in winter, it also ensures that moisture is better stored in the soil, weed growth is reduced and it serves as a natural fertiliser after rotting.
For example, you can use dry, chopped leaves, straw and dried lawn cuttings as a mulch for beds. By the way, if you use an Einhell leaf vacuum to collect autumn leaves, you save yourself shredding work, because the leaves sucked up are shredded by the integrated shredder before the remains make their way into the collection sack. If you want to use your shrub and hedge cuttings, you can convert the cut remnants into wood chippings. All you need is a powerful garden shredder, whether a blade shredder or roller shredder is up to you. The chopped cut material can be used as a permanent mulch under shrubs, hedges and other trees.
Winter shelter and protection for native wildlife
Hedgehogs, insects, birds, etc. – in winter a lot of native wildlife looks for a warm and safe shelter. With just a few simple steps, you can make a big contribution and let a few animal roommates spend the winter in your garden.
For example, you can gather the autumn leaves with a leaf blower and accumulate them in a corner protected from wind and rain. In this pile of foliage, hedgehogs can find the perfect refuge to spend their hibernation. You can also save on disposing of your shrub and hedge cuttings if you use the branches instead to build a deadwood hedge. Depending on how long the hedge is to be, wooden posts are beaten into the ground or – even easier – dug with the help of our cordless earth auger. The space between the posts is filled with trunks, branches and the cuttings from hedges, shrubs and bushes. Incidentally, you can also add the remaining leaves and grass residues as the last layer on top of the deadwood hedge. This deadwood or Benjes hedge becomes the perfect habitat for many insects, mammals such as hedgehogs or dormice, reptiles, wild bees and native bird species.
Summary: Throw away less, use more!
Whether for mulching, as compost or as a shelter for animals – waste products that arise during gardening, for example green cuttings, branches, leaves and plant remains, can be put to much better use than just throwing them away. Hopefully our tips have helped you find a few suggestions that you can implement in your garden.
In this article you will learn all about: