Wireless, efficient, powerful – the Einhell cordless ash vacuum cleaner: tested
Cleaning the fireplace or your charcoal BBQ are certainly not the most popular tasks around the home. However, there are a number of good reasons why you should regularly clean your fireplace: If the fireplace is clean, it will last longer, and its performance and combustion will also be improved. What's more, a clean fireplace is safer. However, you can make the cumbersome cleaning task easier with an ash vacuum cleaner! Completely without power connection, you can easily get your BBQ gleaming again for a summer in the garden with our Einhell cordless ash vacuum cleaner TE-AV 18/15 Li C-Solo. We have put our ash vacuum cleaner to the test for you to discover what makes it so impressive and whether the corded version or our Power X-Change vacuum cleaner is the best choice for you!
How does an ash vacuum cleaner work?
How it works
In principle, an ash vacuum cleaner works like a normal vacuum cleaner or wet/dry vacuum cleaner – some of the devices' key features do differ though. The Einhell ash vacuum cleaners are equipped with a special filter system, through which soot and ash dust don't stand a chance and land cleanly in the collection container. The container and other components such as the suction pipe, the suction hose and the pleated filter are also made of heat-resistant and non-flammable material such as stainless steel, aluminium or PVC. Nevertheless, you should always allow the hot ash and the fireplace to cool down completely well before cleaning to avoid damage to the device and injuries or burns!
Ash vacuum cleaner vs. ash filter
A distinction is often made between ash vacuum cleaners with and without their own motor; a model without a motor usually being referred to only as an ash filter or ash prefilter. This filter system is then connected to a normal vacuum cleaner, as a result of which the vacuum cleaner is essentially 'upgraded' so that it can also filter out ash, soot and small pieces of coal. However, if small wood chips or splinters are also collected, these may damage components of the vacuum cleaner and the filter bag. In comparison, the motorised ash vacuum cleaner is more robust and also protected against wood chips.
Advantages of the ash vacuum cleaner
With the Einhell ash vacuum cleaners, your woodburner or BBQ can be cleaned hygienically, and without having to pick up the dustpan and brush and possibly even inhaling the ash dust while sweeping. Incidentally, this is the great advantage of the ash vacuum cleaners: they do not swirl ash and soot first or eject the fine particles via the exhaust air again, but suck directly into the collection container. In addition, the powerful devices impress with reliable and powerful performance.
Who is an ash extractor for?
In principle, everything can be cleaned up with the ash vacuum cleaner, except liquids – you need a wet/dry vacuum cleaner for this. Above all, however, the ash vacuum cleaner is ideally suited for coarse dirt. An ash vacuum cleaner is particularly useful for anyone with any kind of woodburner, wood-burning stove, fireplace or BBQ. Because the practical device can also be used to clean up charcoal residues from the grill, the vacuum cleaner is not only used in winter when you need to heat your home, but also in summer when you've enjoyed BBQs in the garden with friends and family.
Special features of the cordless ash vacuum cleaner
The cordless ash vacuum cleaner is a real must-have for all fans of wireless freedom. In addition to the powerful Power X-Change system, it is equipped with several features that not only impress in practical testing but, more importantly, in everyday life.
Filter cleaning system: The more suction is applied, the more ends up in the filter. Therefore, the suction power gradually decreases somewhat. With the special filter cleaning system, the installed filter is cleaned at the touch of a button, so the powerful cordless ash vacuum cleaner can deliver full power again. If the filter is worn or clogged, it can easily be replaced by a suitable replacement filter.
Stainless steel collection container: The sturdy, rustproof and durable collection container is made of stainless steel. It is heat-resistant and can absorb a large amount of ash. Soot and ash land securely sealed in the container, which can be easily opened and emptied by three quick-release fasteners.
Aluminium suction pipe: The sturdy aluminium suction pipe is heat-resistant and therefore, just like the PVC suction hose, is ideally suited for cleaning woodburners and BBQs.
Blower connection: The suction hose may have difficulty reaching some corners and crevices in your wood-burning stove, but this is where the blower connection can help you. These hard-to-reach areas can be simply blown out and the contents vacuumed up.
Accessories and hose holder: In the accessories holder attached to the casing, the hose and other accessories can be neatly stowed away and still ready to use at any time. This means that the ash vacuum cleaner can also be stowed away in a space-saving manner without any problems.
Rollers and carrying handle: Thanks to four integrated rollers on the underside and a practical carrying handle, the lightweight and flexible cordless ash vacuum cleaner can be moved around easily, even up stairs. This and the wireless freedom make it as flexible as can be!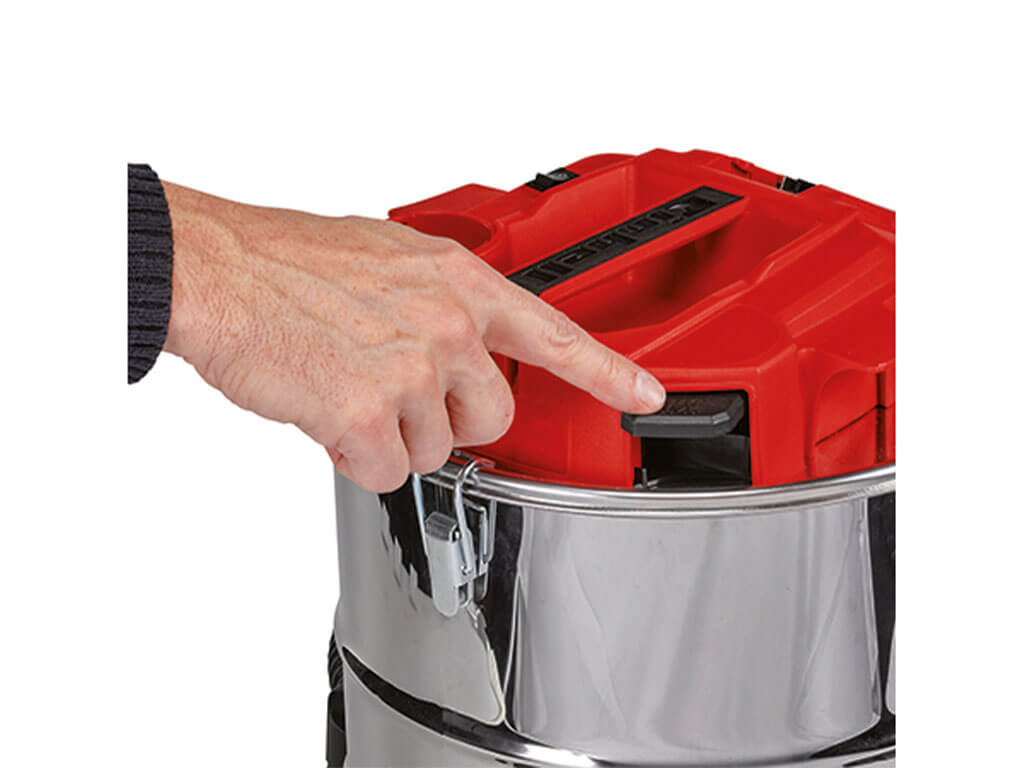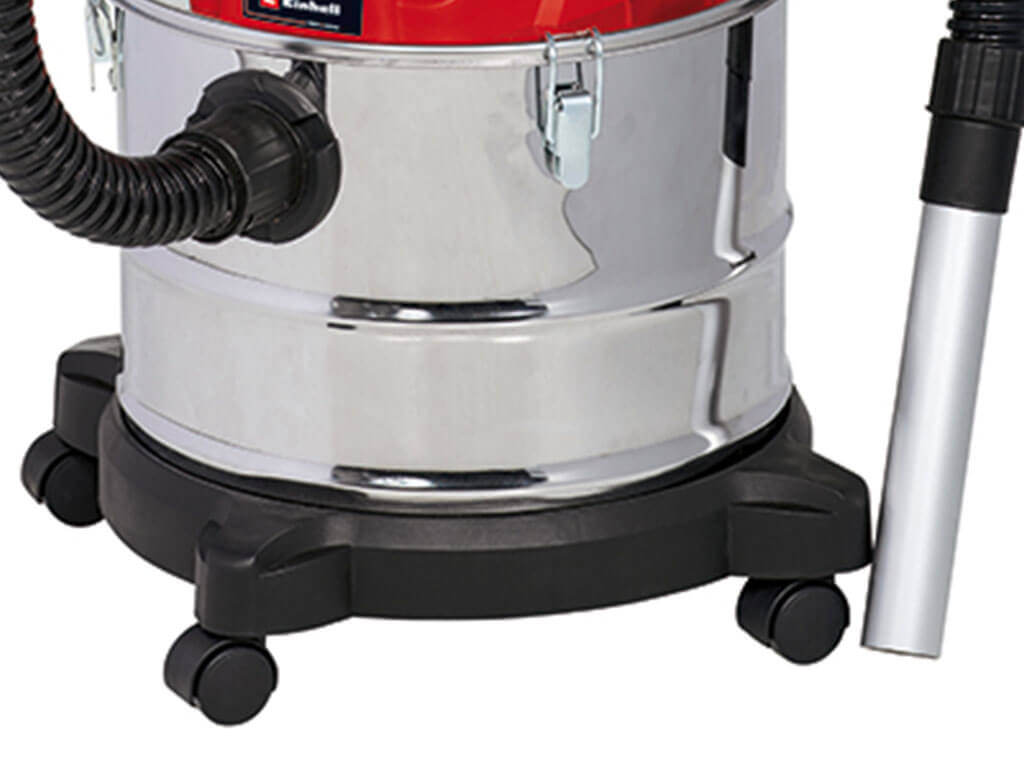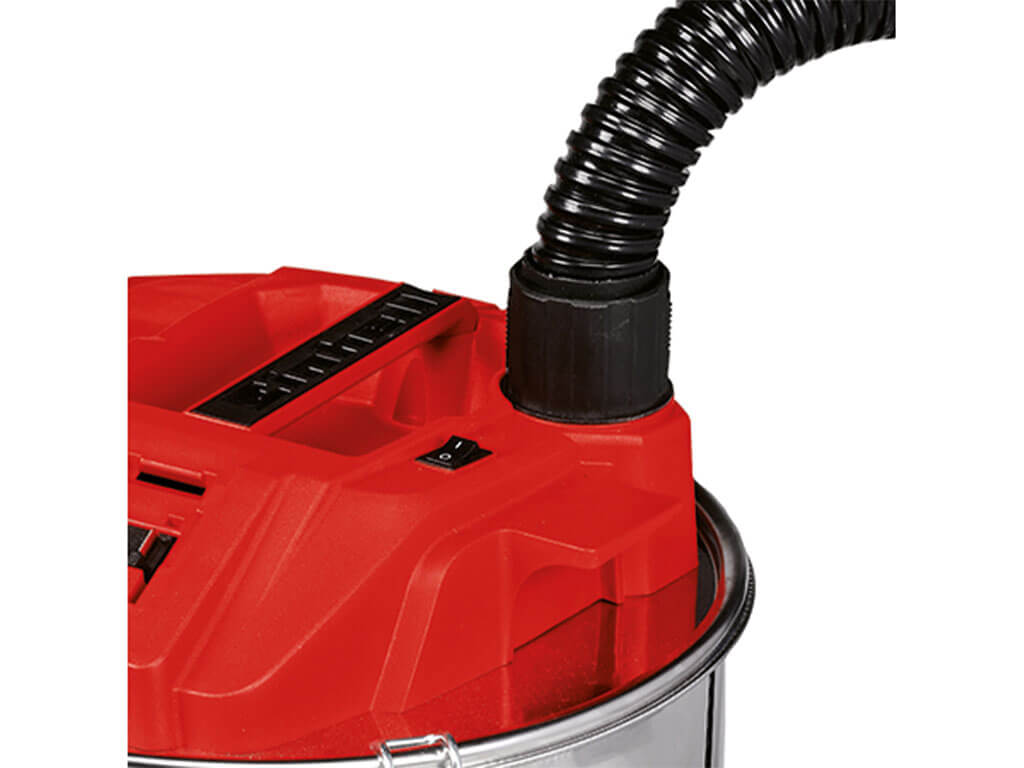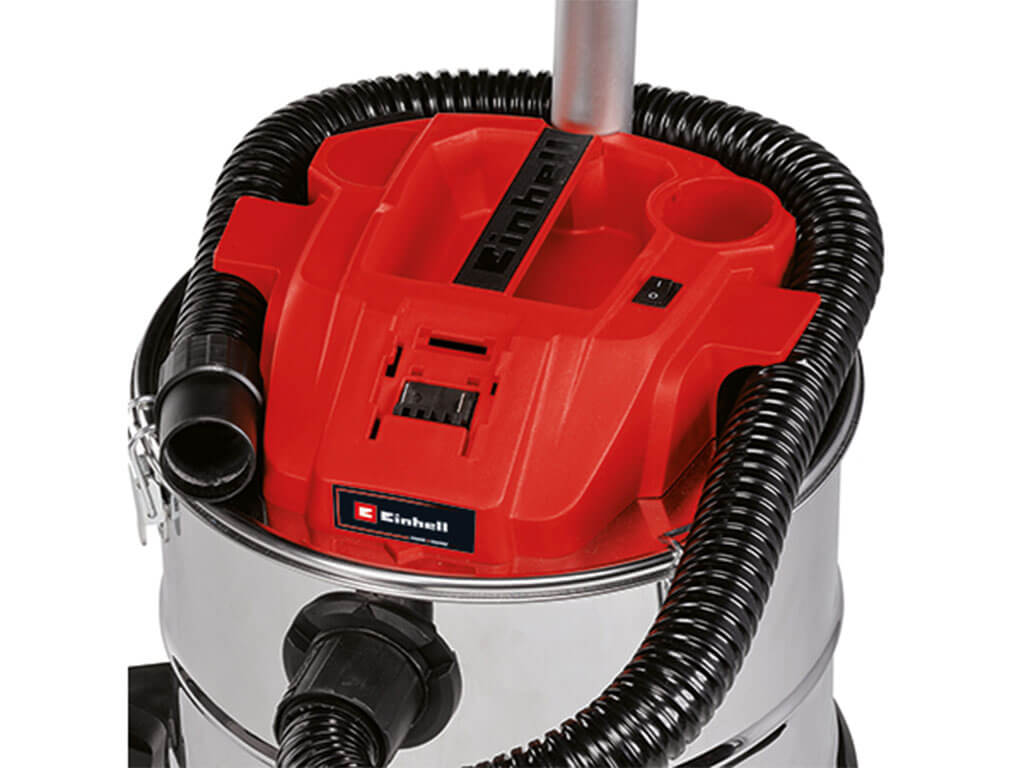 The fundamental question: battery vs. cable
At Einhell, you have the choice between a cordless ash vacuum cleaner and models with a cable. The advantages of a cordless (battery-powered) device are clear: Thanks to the powerful lithium-ion battery, you can work flexibly wherever you are, regardless of the power connection and without a mess of cables. You can also use the handy cordless ash vacuum cleaner to clean BBQs, such as a brick BBQ in your garden – without having to dig out an extension cable first. The Power X-Change batteries can also be used in various other devices. So, if you have finished using your cordless ash vacuum cleaner for the time being, you can continue to use the battery in other Power X-Change devices in the workshop or garden.
However, if you mainly use your ash vacuum cleaner in the house, where a socket is never far away, you can of course also opt for the wired option. All corded ash vacuum models from Einhell are equipped with a two-metre cable. The devices also offer different collection container volumes, suction hose lengths and suction power, which is up to 175 mbar.
Summary: Uncomfortable cleaning of the fireplace and BBQ is a thing of the past
If you start out with a cordless ash vacuum cleaner from Einhell, you can banish the dustpan and brush to the very back of your cleaning cupboard. Gone are the days when you had to laboriously sweep out ashes and soot and whirled up the fine dust more, instead of cleanly eliminating it. With the cordless ash vacuum cleaner, you can work quickly, efficiently and on the move – indoors at the fireplace and outdoors at the BBQ. In our test, the model impressed with strong performance and useful features such as the filter cleaning system and the blower connection. That's why we found that the Einhell cordless ash vacuum cleaner is a must-have for anyone with any kind of woodburner or wood-burning stove, as well as for BBQ fans cooking with charcoal.
In this article you will learn all about: