Spraying or painting? Here's why paint spray systems are worth considering
Are you tired of working with a brush and roller? With a paint sprayer, you can easily bring new impetus to your DIY activity! Whether walls need a fresh coat of paint, wooden furniture needs sprucing up or you're working with varnish – with a paint spray system you save yourself time-consuming painting by hand (and save yourself sore muscles from the process). Spray technology not only saves you time and energy, it also has many more advantages. In our blog, we'll show you why it's worth reaching for the paint spray gun.
Spraying vs. brushing: With this kind of work, the choice is yours
There's almost no hobby as versatile as DIY. Whether drilling, sawing, gluing or painting – there is a suitable tool somewhere for every task. When it comes to painting, you have a choice between tradition and technical progress, i.e. between paint brushes or paint sprayers. Paint spray systems are suitable for a very wide variety of tasks, such as applying wall paints, primers, varnishes, wood preservatives, stains, glazes or oil. With sprayers, you can not only redesign interiors, but also have the right tools to transform wooden furniture, paint various different objects or give your fence a makeover.
It is important that you read the operating instructions of your paint sprayer to find out which liquids your device is suitable for, since this usually depends on the viscosity.
Advantages and disadvantages of spraying technology
Advantages
Work faster: Spraying surfaces takes significantly less time than painting them. For example, you can save yourself the constant dipping and wiping of the paint as the sprayer is equipped with a tank from which the paint is pumped.
Less effort: Painting walls is hard work. The ceiling paintwork especially puts strain on your arm muscles, which often results in muscle aches and soreness. Overhead working is much easier thanks to the handy spraying device.
Clean results: A uniform, thin application of paint is difficult to achieve with a brush, especially at corners, angles and edges. It is easier with a paint spray gun, where fine paint particles are distributed into every corner, no matter how small.
Protected surfaces: The fine spray layer is deposited evenly on surfaces and forms a closed film. This means that these surfaces are better protected against weathering, moisture, UV radiation, mould, germs or any deposits.
Resource-conserving: The paint is applied very finely using the paint sprayer. Depending on the intended coverage, the paint is applied layer by layer. But even doing several layers, less paint is used with the spray technique than when using a brush and roller.
Simple cleaning: If you want to be able to use your paintbrush and roller more than once, you must rinse and clean them properly immediately after using them. This can be very time-consuming at times. This is easier with Einhell paint sprayers, which are disassembled according to the instructions and cleaned with water and the supplied accessories.
Disadvantages
A lot of preparation: Unlike when brushing, where smaller brushes can be used in some places without having to tape up certain areas beforehand, you should not neglect this preparatory work when spraying. The fine paint mist settles in the smallest corners and cracks, which is why it is important to cover everything that is not to be sprayed beforehand.
Some practice required: Although handling paint spray systems is quite simple in theory, it wouldn't hurt to practice beforehand. For a perfect result, you should always maintain a constant distance between the device and the surface and always move the spray jet at the same speed. This ensures a uniform application of paint and avoids visible ridges or paint drips.
Which Einhell devices for spraying paint exist?
In our range you have the choice between cordless and wired paint spray systems. The individual spraying devices differ in terms of maximum viscosity, size of the paint container and the motor and conveying capacity. If you want to work on large areas, it is best to choose a paint sprayer with higher performance and a large paint container. You can also spray entire rooms without constantly refilling paint. If you want to move without restrictions, you should take a closer look at the cordless paint spray system TC-SY 18/60 Li. You can find out here which device could suit your needs.
In addition to the mechanical paint sprayers, there are also compressed air paint spray guns with suction or flow cups. These are operated with compressed air and are therefore a practical extension for compressors. If you already own a compressor, this accessory may be an alternative for you.
How to use paint sprayers properly
What to watch out for
Careful taping and covering: To ensure that paint and varnish only end up where they belong, you should protect all other surfaces beforehand.
Cleaning the surface to be painted: If the surface is dry and free of dust, grease and rust, the applied layer will adhere better
Appropriate viscosity: You should read the operating instructions before you begin to find out which liquids your device is suited for and how you can dilute them.
Optimal temperature: To ensure that viscosity and drying properties are not impaired, it is best to work at room temperature. The paint to be sprayed should also be at room temperature.
Clean nozzle: If the spray nozzle is clogged, unattractive drops of paint and streaks are formed. Therefore, the device, in particular the nozzle, should be checked before each use.
Proper cleaning: After each use, you should clean the spray gun before the paint in it dries up. Accessories and instructions are included in delivery.
Tips for skilful paint application
Practice really does make perfect! This also applies to the handling of paints, varnishes, glazes, etc. Before you start your first project, you should test your paint spray gun in a suitable place. For example, this could be a wall in the basement or utility room, or a piece of wood to test how a glaze can be sprayed and how it works on the wood. Your test run is mainly about trying out the various settings such as the integrated ink quantity control or the adjustable air cap for vertical, horizontal or omnidirectional jet.
For a clean, even application of the paint, it is important to find the optimal distance to the surface and to maintain this distance. You then spray the surface at a 90-degree angle and always keep moving. If you spray at a standstill, the paint application becomes thicker and the result becomes unclean at the end. During this test, you will also find out whether your paint has a sufficiently high opacity or whether you'll need to apply several coats. Depending on the task, it is also advisable to apply a primer beforehand.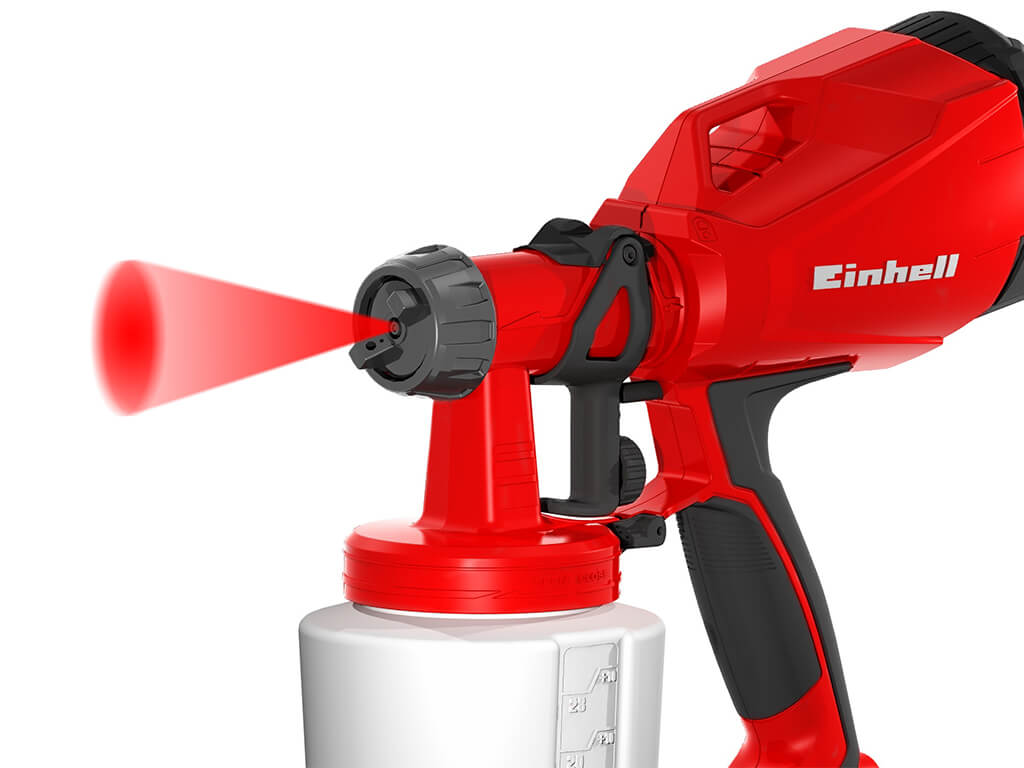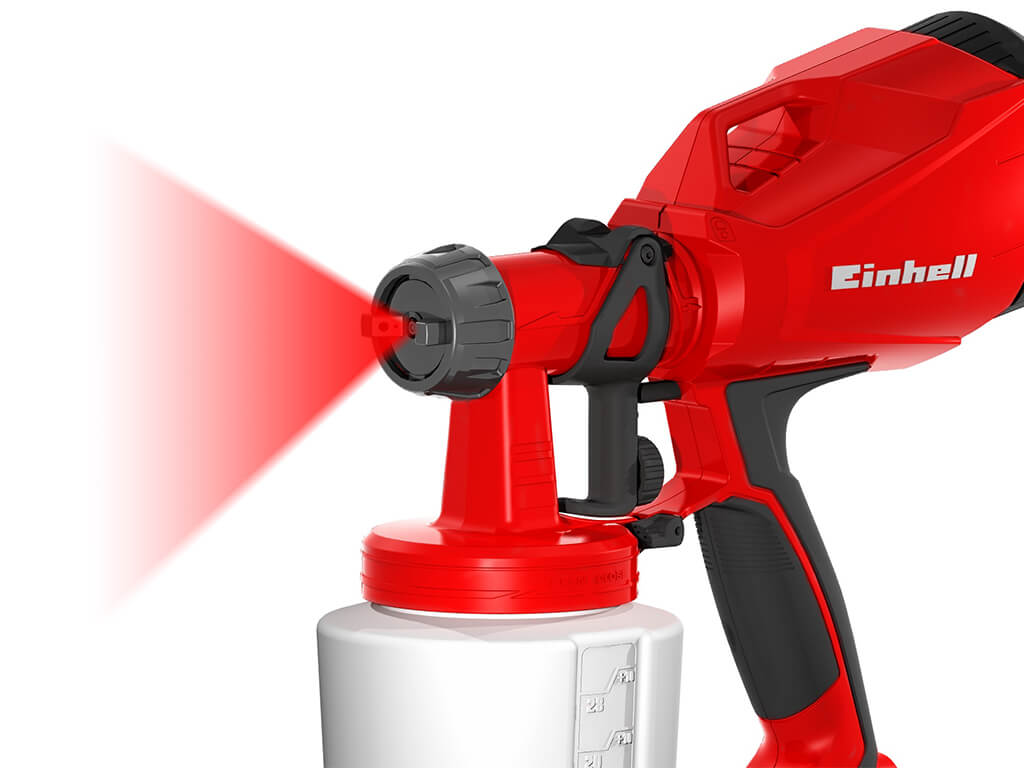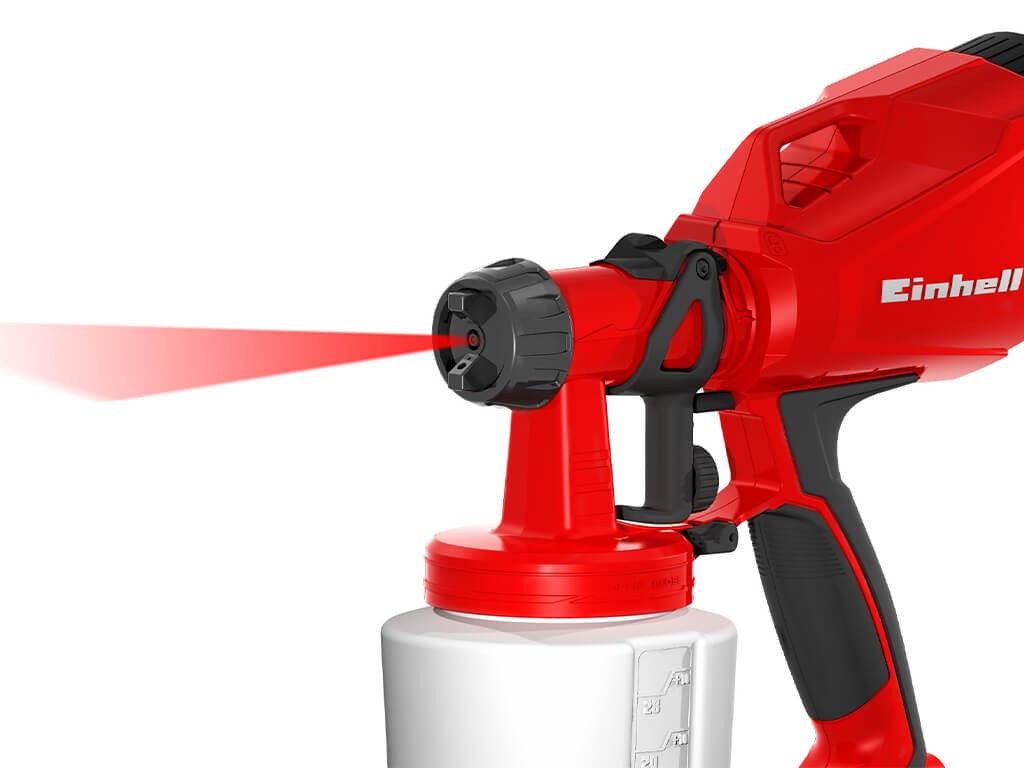 Summary: Quick, even and mess-free
Painting or spraying – ultimately, the decision is up to you. However, it is hard to deny that paint spray systems offer many advantages, which make it worthwhile to get yourself one. The handy spray guns impress with easy handling and ensures that painting is complete in no time – and by the way, you also use less paint compared to conventional painting and work in a resource-saving way.
In this article you will learn all about: