The Einhell cordless circular saw put to the test: What can it do and why do you need it?
A circular saw is a must-have for any DIY enthusiast, and no good hobby workshop should be without one. It is the perfect tool for making not just clean, straight cuts, but also for precise mitre cuts. With this easy-to-handle yet powerful saw, and the appropriate blade, you can effortlessly cut through wood with maximum precision.
A cordless circular saw helps you perform cutting tasks with complete freedom and maximum flexibility! You don't have to worry about annoying cables or having to rely on power sockets, so the work becomes really enjoyable! So, for example, you can cut wooden planks for your new terrace on site where they are needed, without having to search for an extension cable beforehand. Are you thinking about buying a cordless circular saw? We have put our cordless circular saws to the Einhell circular saw test, and explain what this practical cordless saw has to offer, how and where you can use it, and what you should look out for.
Why do you need a portable circular saw?
Even though a portable circular saw doesn't boast the versatility of a universal saw or jigsaw, it is one tool that should be found in any good home workshop. But why so? Because pretty much no other saw can make such precise, perfectly angled, and long cuts. From straight cuts through panels, planks or beams, to cutting pieces down to length or mitre cuts; the portable circular saw is virtually indispensible.
For example, to make a mitre cut, all you have to do beforehand is simply fix the angle at which the sturdy circular saw blade, driven by its powerful motor, will cut through the workpiece. Long, straight cross cuts can be achieved with ease thanks to the rip fence. This hand-operated tool gives you mobility, so you can make professional-quality wood cuts anywhere, even outside of your workshop. The best way to work without cables is with a cordless circular saw. Our cordless circular saws are part of the Power X-Change family, which lets you flexibly combine all battery units and chargers with any tool in the system. Depending how long a project will take, you can select the right Power X-Change battery with suitable performance. So you'll be well prepared for any DIY job!
Different models explained: Retracting guard saws vs plunge cut saws
There are two different designs of hand operated circular saws: those with a retracting guard, and plunge saws. The following will give you a brief overview of how the two designs differ in terms of their principles of operation.
The portable circular saw
Traditional portable circular saws use a retracting guard design. More, precisely, this means that the blade of the circular saw is fixed inside a protective guard. When the machine is placed against a workpiece, the protective guard swings upwards - as the name suggests, the guard retracts. When the device is removed from the workpiece after cutting, the protective guard slides back down to cover the blade again. This mechanism avoids injuries and protects the blade.
The plunge cat saw
Plunge cut saws are another type of hand-held circular saw that you will find in our product lineup. In contrast to the retracting guard design, the protective guard of the plunge saw is fixed and the blade "dives" into the workpiece. While retracting-guard circular saws are better suited to cutting through pieces of wood because their design means the cut always has to be started from the end of the workpiece, plunge saws are also good for making cutouts in workpieces. For example, a plunge saw is perfect for making the cutout for the sink in your new kitchen worktop.
How does the cordless circular saw work?
Whatever you want to cut with your tool, having the right accessories will help make your project as easy as possible. With the Einhell cordless circular saw, you have the additional advantage of being able to work without trailing cables around. That means you can also cut long planks of wood, without having to worry whether the cable is long enough. The high-performance Power X-Change batteries supply maximum power for these jobs, and can be exchanged at any time if needed. You can also use your PXC batteries in any tool in the Power X-Change family, no matter whether it's for the workshop or garden. Each battery can also be charged in any Power X-Change charger. Maximum power and flexibility, courtesy of intelligent lithium-ion batteries: that's what Power X-Change gives you!
Long, straight cuts: If you need to saw a plank of wood to length, or cut a wooden board into several strips, you can make life a lot easier by using a rip fence with your circular saw. It's important here to place the rip fence against a straight edge, so that you end up with straight cuts with a clean cross section.
Precise mitre cuts: Do you need to make precise mitre cuts? That is a forte of hand-held circular saws! The angle of the device, or of the blade, can be easily adjusted without additional tools. The necessary angle, from 0° to 45° can be easily read off thanks to the integrated angle scale.
Guide rails – a practical accessory: One useful addition that you certaintly won't want to do without is the guide rails. To make perfectly straight cuts, it's worth reaching for the guide rails. The rails guide the circular saw precisely along the workpiece with the help of a groove. The integrated rubber lip, which presses directly against the workpiece, also helps minimise tear-out.
Safe and easy blade changes: For perfect cutting results, your saw will need a different blade depending on the project and material. Einhell circular saws are designed so that the blade can be changed easily and safely. However, you should always wear gloves to avoid cutting yourself!
Key features of the cordless circular saw
The Einhell cordless circular saw scored highly in our circular saw test not just for its performance, but also for some of its features and accessories.
Brushless motor
The TE-CS 18/190 Li BL cordless circular saw boasts a brushless electric motor. Brushless motors are much more efficient and powerful than conventional electric motors. They make full use of the battery's capacity, while providing the necessary power for the toughest sawing jobs. Unlike carbon-brushed motors, mechanical abrasion does not occur with brushless designs, so they suffer less wear. What's more, no maintenance whatsoever is required with brushless motors.
Cutting depth adjustment
All cordless circular saw models allow the cutting depth to be precisely adjusted according to the workpiece to be cut. Before you decide to buy a saw like this, you should find out the maximum cutting depth of the different tools, so that you can carry out your sawing jobs with perfection.
Extraction adaptor
Sawing is messy. Sawdust and splinters fly through the air – they should not be inhaled, and they should be kept out of your eyes. To work safely and make it easier to clean up your workspace afterwards, you can attach an external dust extractor to the Einhell cordless circular saw by means of an extraction adaptor.
Good visibility with LED lighting
To ensure that you can see the workpiece perfectly, even in poorly illuminated environments, you can choose a model of saw that has intergrated LED lighting. This also helps you better see the cutting line, which ultimately ensures a cleaner cut. However, the most important thing for a perfectly neat cut is choosing the right blade for your circular saw.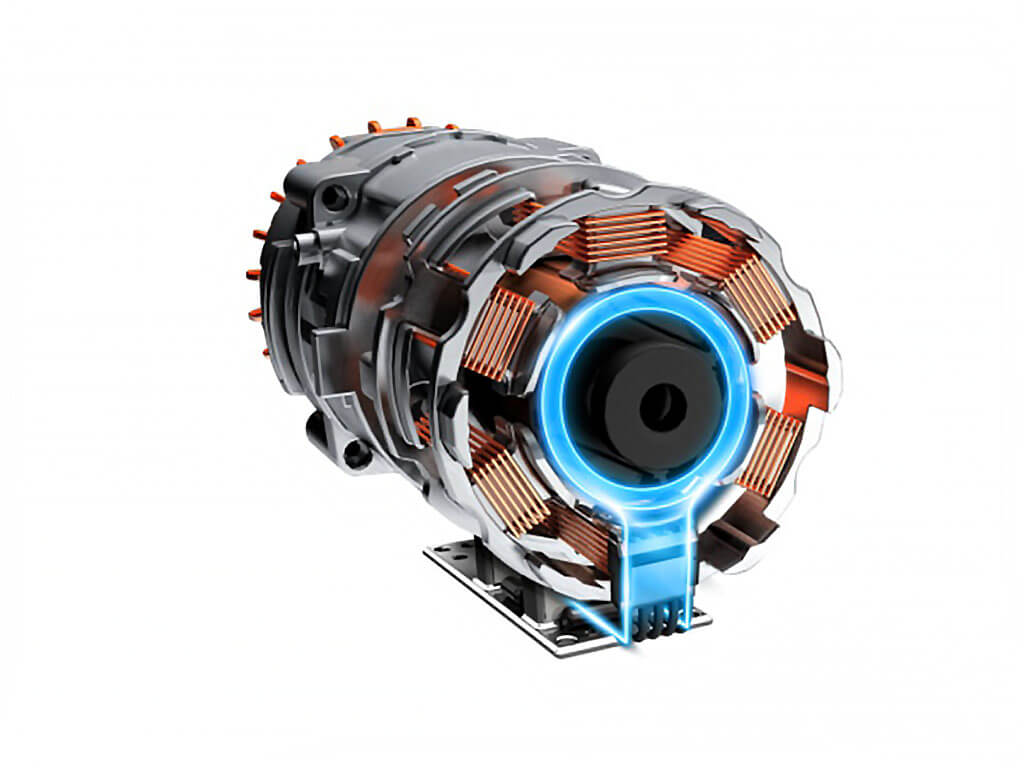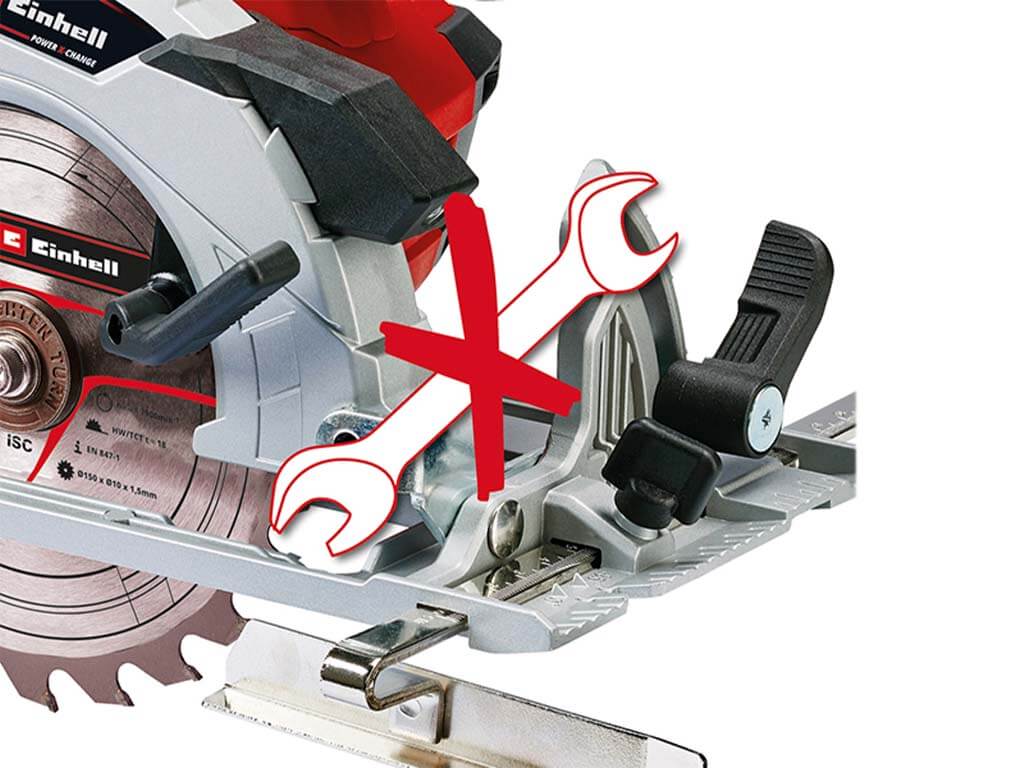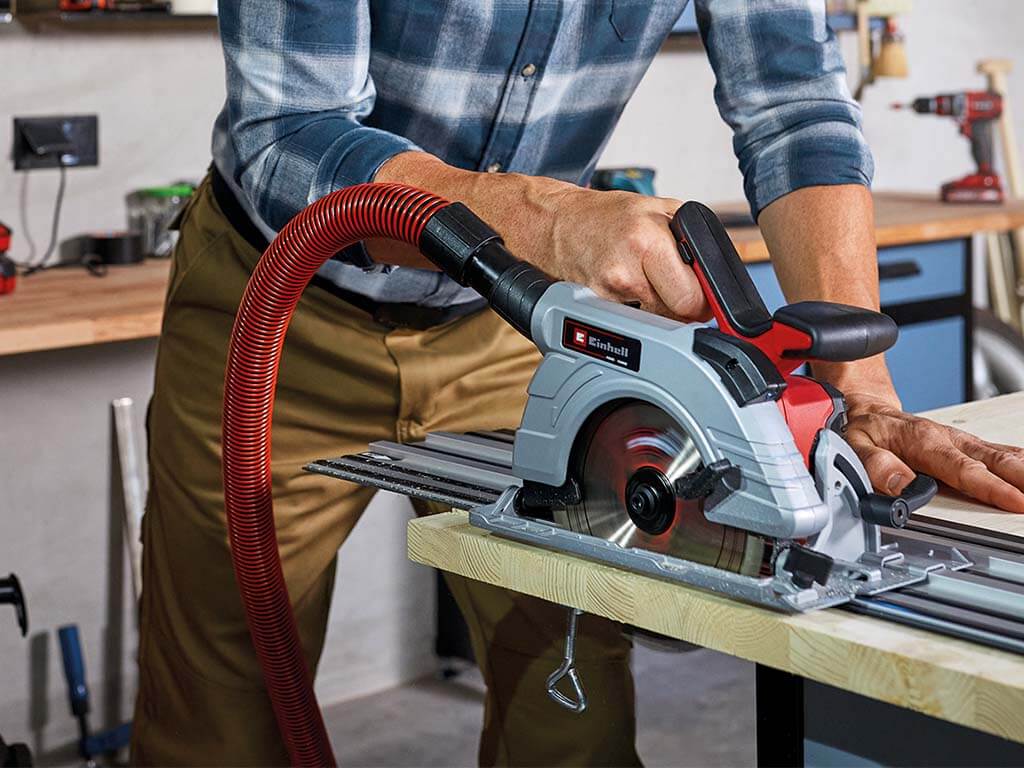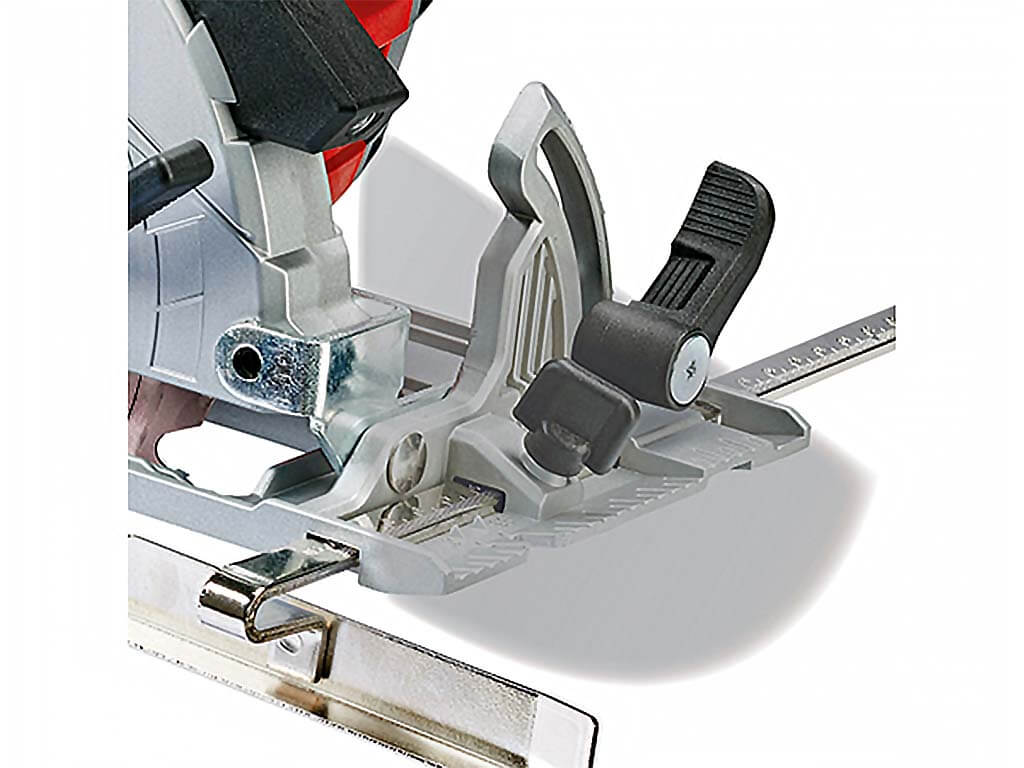 Which blade for which material?
There is such a large selection of blades available for circular saws that it's often hard to see the wood for the trees. In this section, we will try to explain the most important criteria, sizes and characteristics, so that you have a better idea when making your selection. But ultimately, the choice of blade is always a personal decision.
Blade size: When choosing a blade for your circular saw, you should always take into account the diameter and bore size. Depending on the design, hand-held saws differ in the maximum blade diameter and bore size they can accomodate. Bore sizes of 20 or 30 mm are common, but you can always check the instruction manual to find out which blade is suitable for your equipment.
Blade quality: Some of our portable circular saw models are supplied with a carbide blade, which is a type of composite blade. Carbide blades consist of a metal core acting as a support, which is covered in carbide or diamond. One-piece blades (e.g. those made from strip steel or high speed steel) suffer more wear and are less robust in comparison. Carbide blades are especially popular, partly due to their good price–performance ratio.
Teeth: The teeth of the saw blade are also a decisive factor in making precise cuts, and must be chosen according to the material. In general terms, blades with more teeth cut slower, but more cleanly. Blades with 16 to 24 teeth are particularly suited to large cuts, for example when cutting roof battens to length. Blades with 30 to 48 teeth ensure a clean cut face, and are suitable for general use. A blade with more than 60 teeth is best for hard woods and making precisely angled cuts and mitres.
Sawing other materials: If you want to cut through other materials apart from wood, first you should check in the instruction manual whether your circular saw is suitable for the job. You can select the appropriate blade depending on the material, for example whether you will be sawing metal or plastic.
Comparison with other hand-held saws
Along with the retractable guard and plunge cut saws that we have looked at in detail in our portable circular saw review, there are other types of hand-operated saws that might come in useful for you. Here we will briefly summarise what these tools have to offer and where they find use.
Cordless mini circular saw
The cordless mini circular saw from Einhell is small, light, and practical. You could say it is the classic circular saw's little brother. It is versatile and can be used for straight cuts in planks of wood, panels, parquet flooring, and boards of different materials. However, it can't be used for mitre cuts or those needing guide rails; those are jobs for the cordless circular saw. The cordless mini circular saw is also part of the Power X-Change family, so the batteries, chargers and other system components are all interchangeable.
Cordless all-purpose saw
The Einhell cordless all-purpose saw is a reciprocating saw, so it is not directly comparable to a circular saw. The blade of this hand-operated saw is moved through the material in a reciprocating vertical stroke, similar to a jigsaw. It is particularly suited to sawing through different materials. You can work wherever you need to and you aren't tied to a workbench.
Jigsaw
The blade of a jigsaw is moved through the material in a perpendicular reciprocating motion. The particular forte of this type of saw is cutting very precise curves. Long, straight cuts, but also round cutouts – with the right accessories and a little practice, the jigsaw will prove itself as a versatile all-rounder.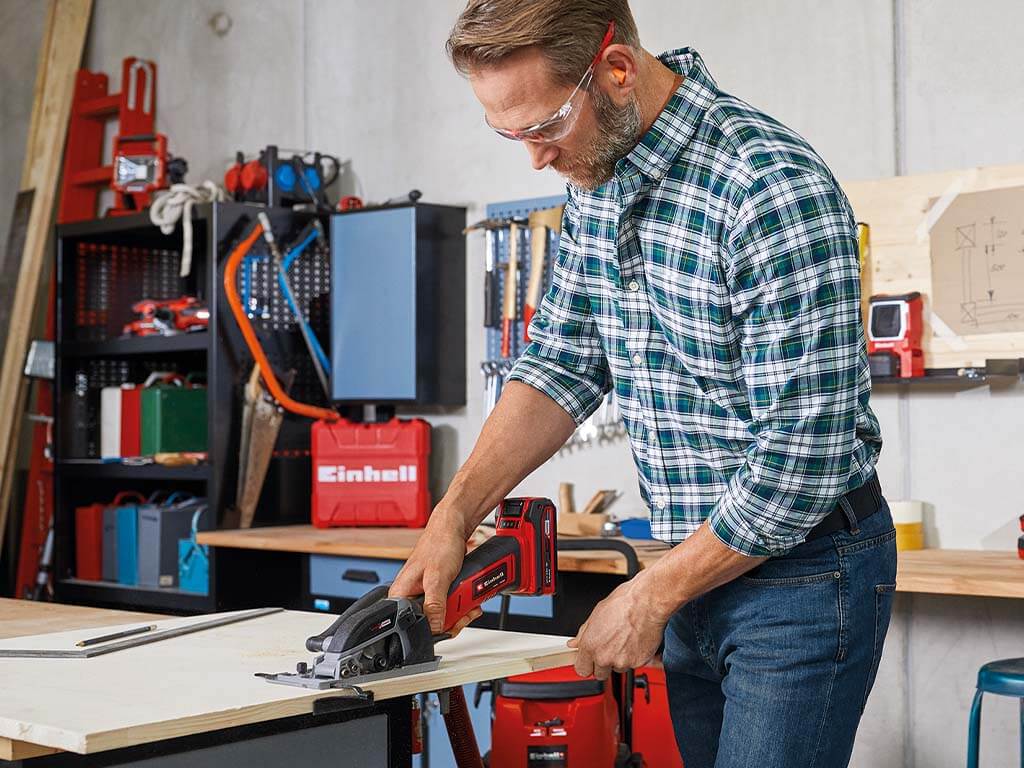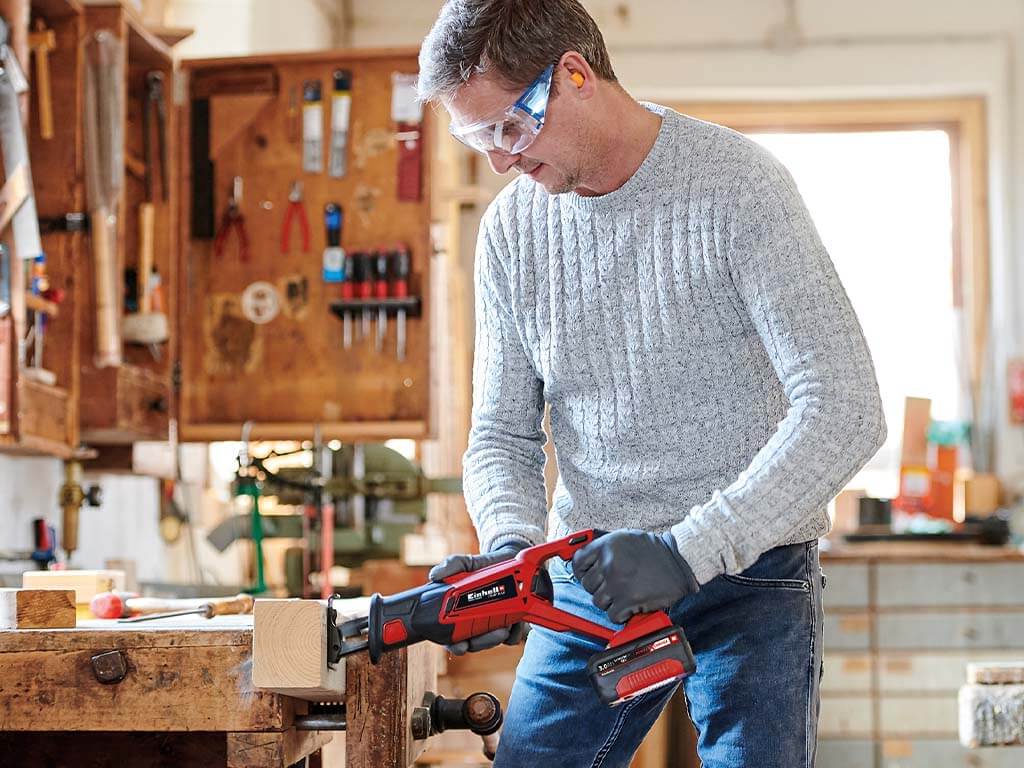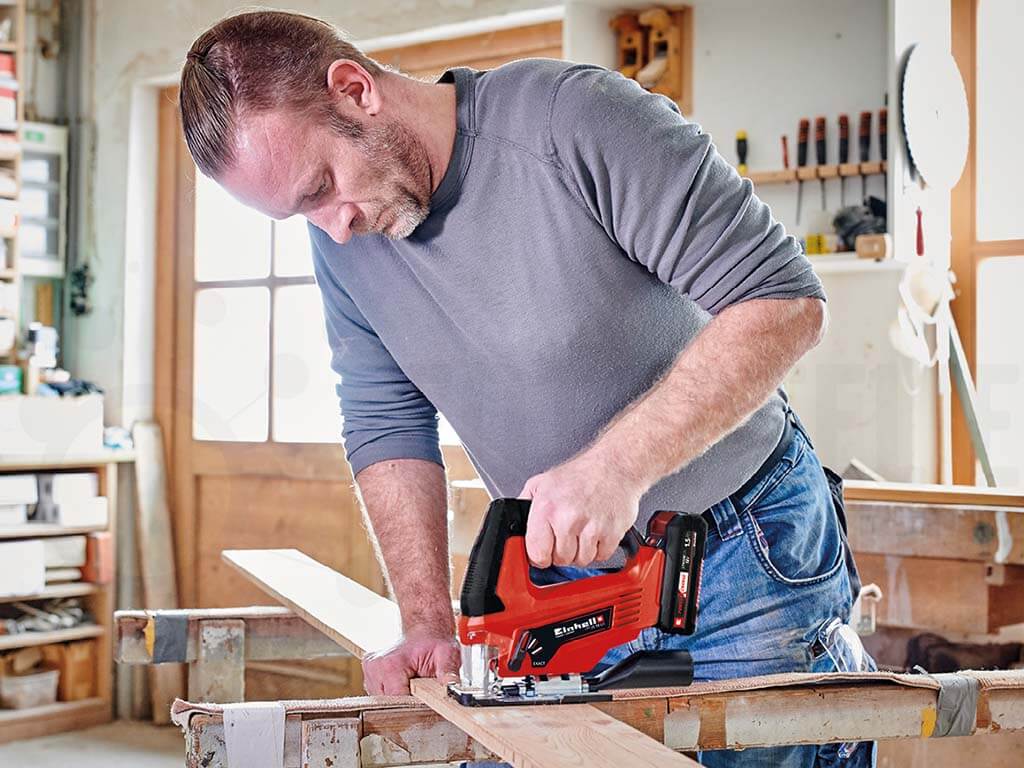 Summary: The cordless circular saw – an important part of your toolkit
As you can see, a portable circular saw is essential when you need to cut a piece of wood to length. A battery-powered model also allows you to work completely free from cables and similar limitations – making it easy to cut even long workpieces without getting tied up in knots with the cables. Above all, if you already own another Power X-Change device and have one or more batteries at home, your home workshop's basic toolkit should definitely include an Einhell cordless circular saw.
In this article you will learn all about: